In Pursuit of Better Boating with Chapman Program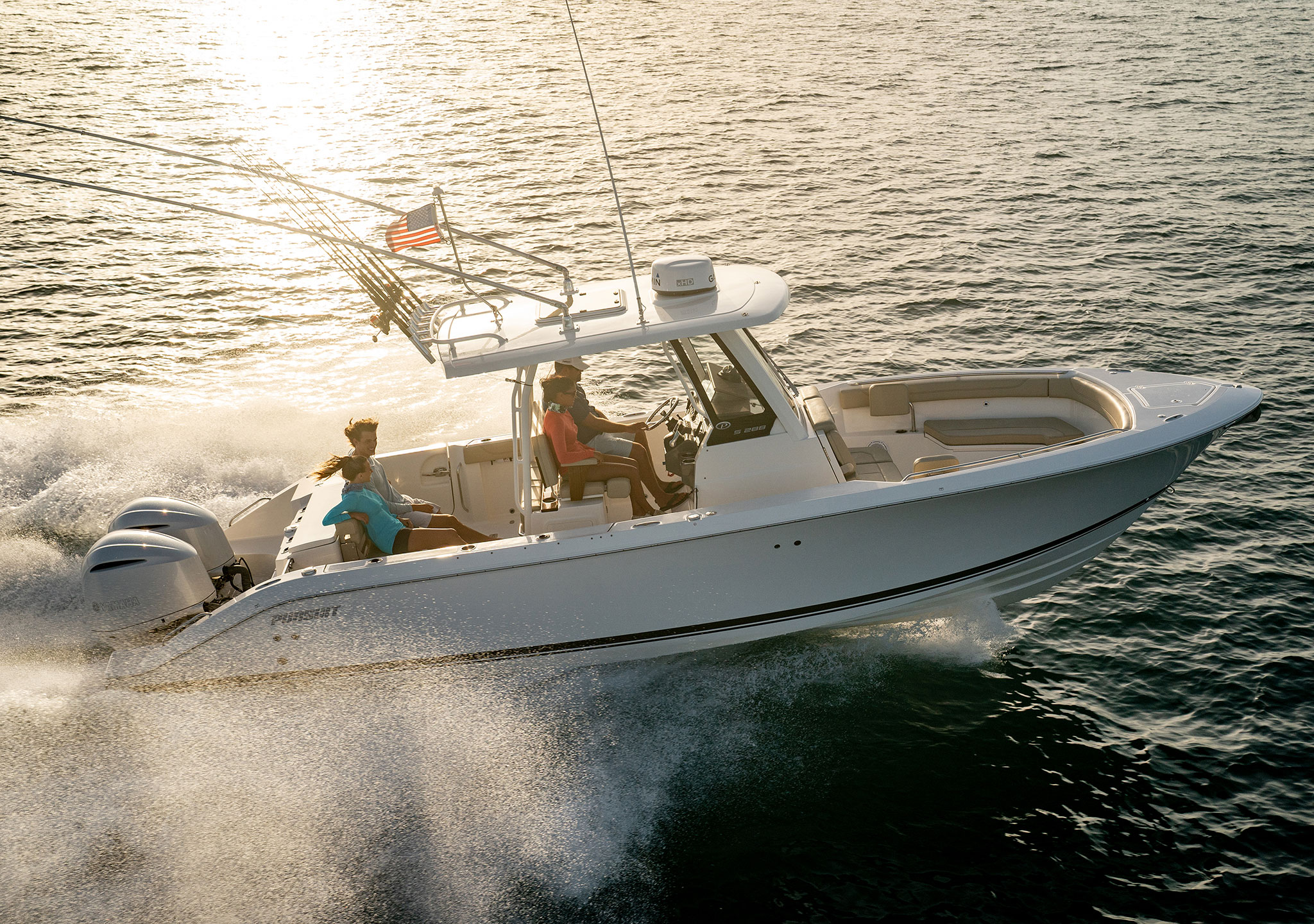 At Pursuit Boats, we strive to be the masters of boat design and construction. We are proud to manufacture some of the best boats on the water, offering owners a unique blend of design features and onboard equipment that the whole family can enjoy.
Naturally, we want to make sure that every new owner of a Pursuit Boat is equipped with the skills necessary to get out on the water confidently and safely and most of all, to go out and have fun with their new boat for many years.
To make sure that new owners of Pursuit Boats are ready to enjoy their new boats to the fullest, we've partnered with Florida's Chapman School of Seamanship to create a custom training course. It's specifically designed to help you get the most out of your Pursuit Boat.
The two-day course we've created together is a CPC100-Pursuit course that provides the perfect combination of boating skills, waterway rules, safety, and real-life hands-on boat handling education.
What is the Chapman School of Seamanship?
According to the school's Director of Academics, Jim Allen, their facility was originally established in 1971 to create opportunities in the maritime field, for troubled youth: "It started as a school to get wayward boys on track via the maritime industry," he noted.
Since then, the school's curriculum has continuously evolved to offer a broad range of courses in both the recreational and commercial maritime fields. "25,000 students later, we are one of the few, if not the only, schools within this niche," he noted. "We currently train about 900 students a year, across roughly a 50/50 split between recreational and commercial courses."
With over 50 years behind its name, the Chapman School of Seamanship has developed a reputation for its high-quality training delivered by excellent instructors.
He explained that the school's staff, particularly its instructors, are hand-picked to ensure the best possible outcomes of its training programs: "Our instructors are calm and reassuring of our students, and the results of our courses have become quite measurable. Lifelong boaters often admit that they have learned things that even they didn't actually know, and it's common for students to say that our courses were an eye-opener for them. We really stand behind our product and we work hard at it.
How did this course come about?
This new course is the brainchild of Pursuit Boats' Director of Brand Management, Mark Taiclet. A lifelong boater, his home faces local waterways where he's had an ongoing first-hand view of how boat owners actually use their boats on a daily basis, and some of the things he's seen had shocked him. "It's frustrating to see people doing things that they shouldn't be doing," he lamented. "One day I looked at my wife and said, 'Maybe they just don't know what the etiquette is? Maybe nobody's taught them?' And that was how the idea for this program came about."
As more and more new boaters are hitting the water amidst the ongoing boating industry boom, the issue of boating etiquette and general safety has become even more important. "We started thinking about what we can do to help people to be more confident out on the water," said Mark. "We want people - and especially Pursuit Boat owners - to enjoy their experience on their boat for years to come. We don't want them getting out of boating."
After doing extensive research, Mark found the Chapman School and was immediately impressed by the high quality of the school's training. "I looked hard to find a suitable training program that we could partner with," he recalled. "One of our board members had happened to take a course at the Chapman School and had been very impressed with it. We'd known about the school for a long time already so I began talking to Jim, who confirmed that their dedicated facility was a great fit for us and what we wanted to achieve. It ended up being the one place we could confidently send our customers to, knowing that the customer will get exactly what they need."
What can new Pursuit Boat owners expect from the course?
The course is run over two days totaling 12 hours of training. Day one is six hours long and is spent mainly in the classroom. You'll cover a variety of topics all focused on getting into and operating your boat. It ranges from seamanship, weather and environmental issues, to how to tie a knot, boating etiquette, safety requirements onboard and many more. The day ends with an exam to test your knowledge.
On day two, we hit the water on a boat for six hours of fun, hands-on training. Attendees will go over all of the things that were learned during the classroom session and they'll be taught all kinds of basic boating checks, close quarters docking and maneuvering and various safety aspects. This day is all about making owners more comfortable in their boat, especially behind its wheel.
We're very excited to reveal that this part of the course will be taught exclusively aboard a brand new Pursuit S 288 Sport center console featuring dual engines. According to Mark, this boat was specifically selected based on the kinds of boats that most Pursuit customers are buying: "It was important to us that, at a minimum, we have a twin-engine boat on the course," he explained. "The majority of the boats that we sell are twin-engine and a lot of the people doing this course will therefore want to run a twin-engine boat."
Adding to the quality of the program, we've partnered with Solstice Docking Solutions who have supplied a SeaPen to ensure that our Pursuit S 288 is kept in top condition and ready for every batch of students.
The SeaPen is an exciting and far less intimidating alternative to traditional boat lifts. It's a floating dock that will be parked under the S 288 and act as an in-water garage for the boat. Consisting of a floating Polyethylene frame surrounding a soft, patented marine-grade rope bed, the SeaPen allows a boat to simply float on or off the bed via a rear gate that is opened when departing and closed upon return. The platform's bilge system automatically detects and pumps out any water on the SeaPen, keeping the boat safe and dry at all times, and ready for use. Importantly, it's easy for boaters of all skill levels to use.
Pure. Pursuit and the importance of the S 288 Sport on the course
Mark added that it was important to the company to have a boat there representing the brand to both new owners and potential owners. "Jim told me the first time I met him, that they're receiving a lot of customers who haven't even bought a boat yet and don't know what they want or what type of boat. We felt that this was a fantastic opportunity to present our brand to those customers by having a new boat sitting there at the school. We'll replace it every one to two years and may even expand the program depending on demand."
Meanwhile, Jim was satisfied that the S 288 Sport is an ideal size for course attendees to learn on. "28 Foot is a good size, it's not too big or too small," he remarked. "My philosophy is that if you can run even a single-engine 21-foot boat then you can run a 45-foot trawler. The skillset is the same. The S 288 Sport is a nice heavy platform so it'll be stable when docking and maneuvering, and it won't get blown around by the wind as much."
Mark felt the twin-engined S 288 Sport would also help to put new owners' minds at ease about owning a boat with that power configuration. "A lot of our customers are coming from having owned a single-engine boat and are intimidated by boats with more engines. They're worried that it'll be more to manage. But they get done with the school and realize that it's actually easier!"
"I'm happy that we could get the S 288 Sport for the course," he added. "We may even get a larger, triple-engined boat there in future. I'm not sure yet," he said, smiling.
What do previous attendees say about the course?
Marketing Manager for Pursuit Boats, Megan Morris, highlighted the continuing positive feedback she receives from Pursuit Boats owners who've completed the course: "I spoke to someone who'd done the course about a month ago and he said that it was the best thing he'd ever done and that everyone should take it."
"He told me that prior to doing the course, he didn't know how much he didn't know," she continued. "And more importantly for us, he said he had not been using his boat most of the time because his wife was scared whilst they were on the water. He was so impressed with the course that he even signed up for continued lessons!"
Sign up today
Pursuit covers the course tuition for new owners of MY23 and MY22 boats and up to four of their family members, to ensure that the whole family is comfortable onboard and knows how to operate the boat confidently.
The only thing we ask of our attendees is that at the end of the course you complete a short survey regarding your experience.
To schedule your training, simply reach out directly at (772) 283-8130, or email info@chapman.org. Proof of purchase will be required.
Confidence on the Water Course classes are typically scheduled on the first and third weekends of every month, however, exceptions may be made to fit your schedule.
See you on the water!