Pursuit Owner Interview with Stanley Watts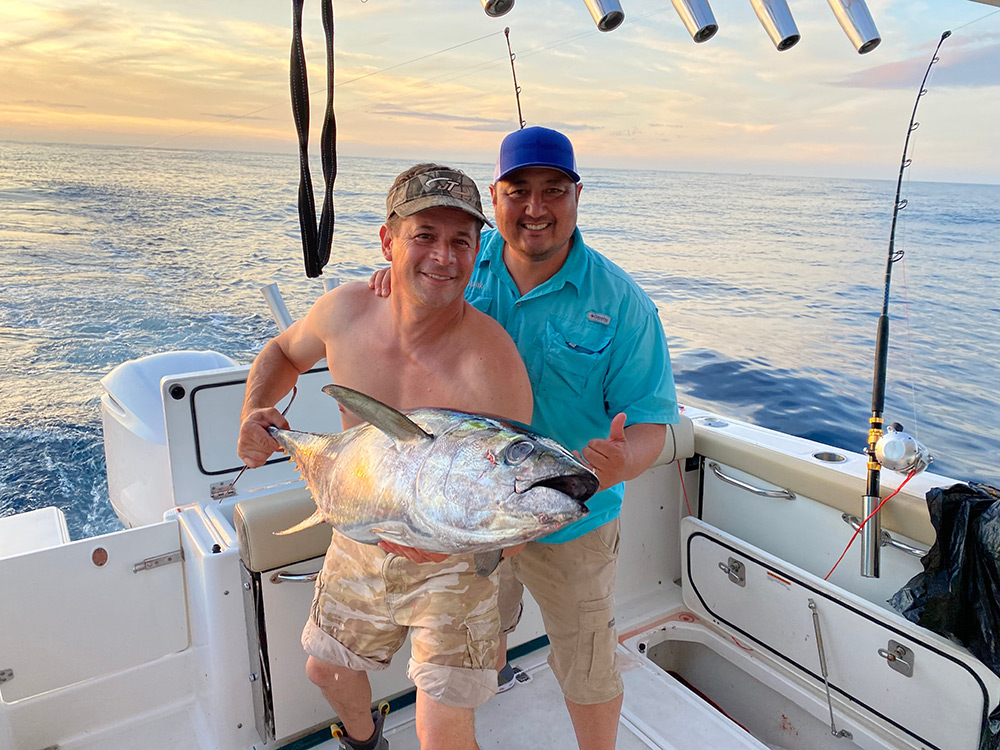 When hardcore sports fishermen are shopping for a new boat, our Dual Console line is not always at the top of their list. That's understandable since a dual console is not an immediately familiar format for sports fishing and so, for many buyers in this category, center consoles are often the first choice. But that need not be the case, as you'll find out in this interview with hardcore sports fishing enthusiast and Pursuit owner Stan Watts.
Fishing from a young age
Based in Lanoka Harbor, New Jersey, Stan Watts is a proud owner of a 2020 Pursuit 295 Dual Console.
He's an enthusiastic fisherman, a passion that he credits to his father who spent his career in the military. After serving in locations around the world, the family was eventually able to put down roots in Hawaii. "We visited Pearl Harbor overnight, camping and fishing for the whole weekend at a time," Stan recalled. "I continued to fish as I got older but eventually, with all of the commitments of life and raising a family, the spark for fishing went away."
His interest in fishing was unexpectedly revived in 2015 when a co-worker, who was a member of Freedom Boat Club, took him on a fishing trip. The sport fishing bug had bit, and it was time to go boat shopping.
Big decisions on big boats
Stan's boating journey started the same way most buyers do: He began with smaller models, gradually trading up to a 24-foot model from a competitor. He recalled a bad experience in one of those smaller boats that cemented his decision to get rid of it. "One afternoon on our way home, we got stuck in a summer squall on my 24-foot boat. It didn't have a full-height windshield, and the entire experience was miserable. We got absolutely soaked."
He began shopping around with three requirements in mind: It had to have a full-height windshield, it had to be bigger, and it had to be equally capable of fishing offshore and socializing at the sandbar. "One day I was at Captain's Inn in New Jersey and saw a Pursuit Dual Console. I thought it was beautiful, so I did some research and saw only good things about Pursuit. I loved the Pursuit 295, it looked modern and stylish; I especially loved the lines and of course the full windshield!"
Not long afterwards, he took delivery of his brand new 2020 Pursuit DC 295 which he named 'The Chieftain'. "The name is a combination of my career role as Chief Technology Officer, and The Captain when I'm on the boat," he explained.
Fit for fishing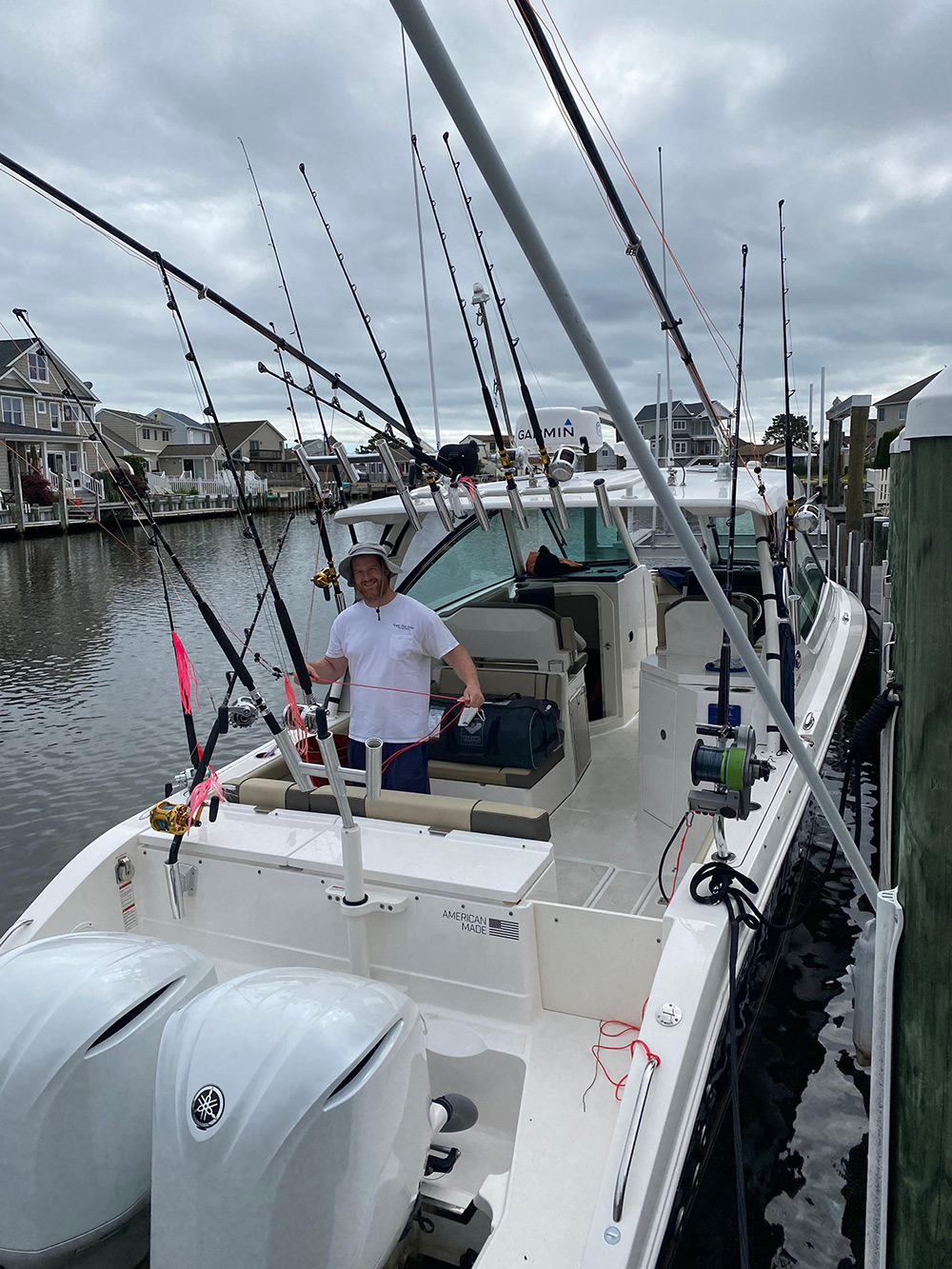 The Chieftain is kept busy all summer taking Stan and his crew far offshore of the New Jersey coast: "We fish anywhere from 15 miles out all the way up to the Jersey Canyons about 90 miles out. You can get Tuna, Mahi and Wahoo out there but in Summer, we typically target Mahi and Tuna - both yellowfin and bluefin."
The Pursuit DC 295 is a perfect choice for this kind of hardcore enthusiast sport fishing. Its superior design and engineering are synonymous with what you'll experience on any other boat in the Pursuit range. And like any other Pursuit boat, its build quality is amongst the best in the world.
In terms of features, its full-height windshield and hardtop will keep you and your crew dry and comfortable, out of the elements. But when the sun is out and the sandbar is on, the spacious forward seating is perfect for socializing.
Altogether, the Pursuit 295 DC is a perfect combination of features that make it the ideal platform for extended fishing trips, wherever you want to take it. And paired with your choice of a pair of Yamaha F250 or F300 outboards, you'll have the speed, reliability and economy to get you there and back.
Stan described how he's taken his DC 295 to a whole new level of fishing perfection through the installation of various additional accessories, further emphasizing the boat's flexibility and capability for hardcore fishing: "I added a radar, an autopilot, outriggers, a 30 amp outlet for an electric reel, a full enclosure for the back, and a spotlight. I also added several new rod holders so that there is now a total of nineteen."
The Pursuit Difference
Having owned boats from another large manufacturer before buying his Pursuit DC 295, Stan was able to offer a unique perspective on the things that really make Pursuit Boats different from the competition: "I love the construction of my Pursuit. In comparison to my previous boat, you can definitely see the vast improvement in build quality. My Pursuit includes better hardware, higher-end components, and a much more solid, more thoughtful layout. It's a much higher quality boat in general - the difference is day and night - and compared to my previous boats, I've had far fewer issues with it."
"I also really like the fact that it's a dual console," he continued. "I spend half my time at the local sandbar here with friends and family, and it's a very comfortable boat for that. And when it's time to go fishing, it's durable enough to go out into the ocean, with full protection. You don't feel the wind or the rain."
Stan also noted the customer service from Pursuit Boats as a major highlight of his ownership experience: "The service from Pursuit has surprised me," he revealed. "I had minor issues, I contacted Pursuit and they would respond and help me out immediately. I didn't have that with my other boats. With that other manufacturer, I couldn't contact customer service. There was no phone number, no email address. In contrast, Pursuit always answers my emails and my phone calls. And that's very important when you have a boat. Boats are in a constant state of destruction, you're always beating it up, so you will have problems. And when you have those issues, it's great to be able to contact Pursuit and immediately get service from them."
What comes after The Chieftain?
Following his outstanding experience with his Pursuit DC 295 and the impeccable after-sales service from our team, Stan had no doubt that his next boat would be a Pursuit model as well. But which one?
"It will likely be the 355 Offshore," he confirmed. "I want a boat with a cabin for overnight, and a generator on board. It's a little bit bigger and comfier in the ocean, so it would likely be that one. I like the DC 365 but unfortunately, it doesn't have the range that I need to go out to the canyons, otherwise I'd get that one for sure!"
Advice for new buyers
In conclusion, Stan enthusiastically offered his advice for new boat buyers: "I'd definitely recommend Pursuit. It's a fantastic boat with great service. Of course, the boat you buy is going to depend on what you plan to do with it. The 266 DC is a great choice for both inshore and offshore, within 40 miles. If I was in Florida, I'd consider a center console but here in the northeast, we need that protection from the elements. It makes a huge difference."
"Overall, my advice is to get the biggest boat you can afford and cope with," he added. "The day will come when you'll be stuck in huge seas. A bigger boat is safer and comfier and will get you home with fewer issues; as they say, there's no replacement for displacement! But whatever you choose, I definitely recommend buying a Pursuit."
Browse our Dual Console range
The Pursuit Dual Console series is an award-winning series of boats that have been engineered to be the perfect sport utility dual console fishing boat.
The DC series won't require you to make any sacrifices. With various lengths available, loaded with fishing features like a livewell, large fish boxes, hull side doors for easily landing a big catch, and platform extensions on the stern, a Pursuit DC can truly meet all of the needs of even the most hardcore fisherman. But in true Pursuit Boats style, it also includes family-friendly features like spacious bow seating, a full-height tempered glass windshield, and comfortable accommodation for overnight stays.
Contact our sales department to place your inquiry and we'll get back to your promptly.