Top tips for cooking and dining onboard your boat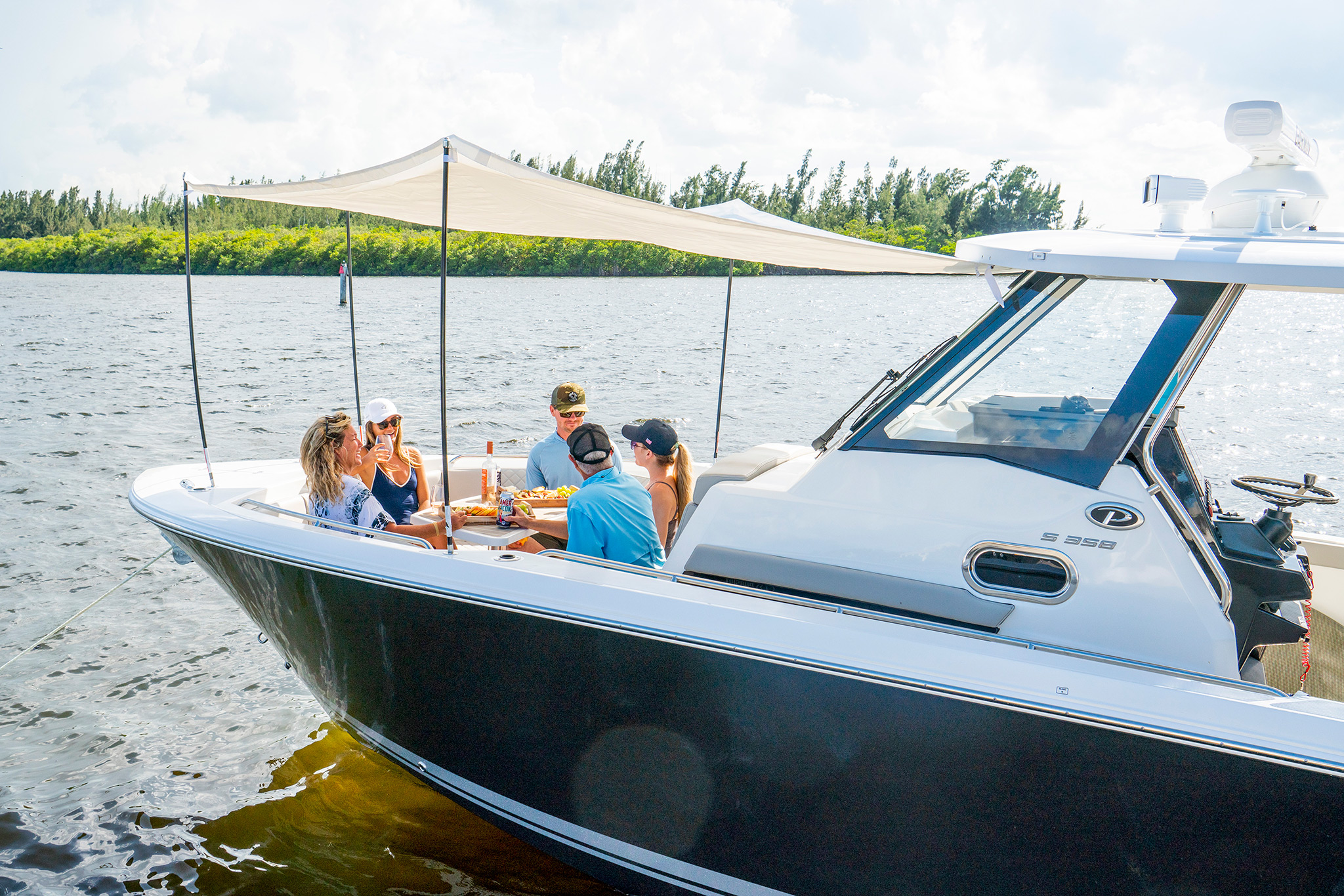 When we cook and eat at home, we often don't need to give much thought to it beyond deciding what we're going to make before actually just cooking it. The whole thing is pretty straightforward. Everything you need is close at hand, there's plenty of space, and the floor stays exactly where it always is.
Cooking and dining on a boat are a little more complex.
When cooking and dining on a boat, even large ones such as our flagship OS 445 which is loaded with meal prep facilities, certain compromises in comparison to your kitchen at home will inevitably still have to be made.
But with a bit of thought, planning and time, cooking and dining aboard your Pursuit Boat can be a memorable, delicious occasion every time.
Today, we're presenting some of our best tips for cooking and dining aboard your Pursuit Boat.
A bit of planning goes a long way
A successful meal aboard your boat starts with planning and as with most things boating, the better you plan, the better the experience you'll ultimately have.
The key takeaway here (excuse the pun) is to plan all of your meals ahead of time.
Start by ensuring that you take into account your crew's dietary restrictions or preferences, if any, particularly with regards to allergies, because the last thing we want is someone to have a severe allergic reaction while offshore.
Next, plan a simplified menu that doesn't require complex cooking or preparation methods. This reduces the cook's time spent in the galley, it makes meal prep easier and safer, and it can save on your boat's freshwater storage as well, to free it up for drinking and other needs.
Speaking of onboard facilities, you also need to take into account the refrigeration and freezer space available on board your boat. While it's easy enough to bring one or more coolers with you, and that's probably something you already do, it's always better to save space on board if possible, rather than take up more of it with more stuff.
Pre-prep like a warrior
Do as much of your meal prep at home as you realistically can. At a minimum, all or at least most of the chopping, slicing, dicing and grating should ideally be done in the comfort, stability and safety of your home kitchen. The less time you need to spend slicing things with a sharp knife, in a moving galley, the better your chances of not losing a finger or suffering some other injury.
But also, less time in the galley means more time enjoying the water, so it's a double win!
If chopping/slicing is unavoidable at sea, try to select dishes in which the knifework is minimized, both for your/the cook's safety and for the sake of time.
And on the topic of injuries, please make sure that your boat has a fully-stocked first aid kit and a serviced fire extinguisher, and be sure that your crew knows what to do in an emergency and how to summon help on the VHF radio if necessary.
Pre-cook items before boarding
Pre-cooking most or perhaps even all of the cooked meal components you require can really minimize the hassle and risks involved with meal prep while out boating.
This point ties in with your meal planning and prep so this step will form part of the process of planning your meals before you arrive on your boat.
By cooking the food at home, you benefit from the convenience, space and comfort of your home kitchen. Boat galleys are typically quite small. They don't usually have all of the facilities you've got at home and certainly don't have the space. Since stoves, microwaves, fridges and everything else are necessarily downsized for boats, you're always going to be more limited in terms of what you are realistically able to achieve while cooking onboard.
Galleys are also constantly moving, even if you're at anchor or tied up at your dock or a marina. Cooking can already be hard work, even without the balancing act of a moving deck.
Importantly, you will take the pressure off your batteries, propane or gas, and other energy systems by doing most or even all of your cooking at home. If you own a Pursuit Boat, this need not feature as a major concern since your boat has been engineered to be used to its full capacity whenever needed, but it's something to keep in mind.
For all of the above reasons, if you want the best possible experience while dining on board your boat, we highly recommend doing as much of the cooking at home beforehand. Then simply pack it all up into storage containers, pop it into a cooler and you're ready for a good time on the water.
Get the right tools & Make it easy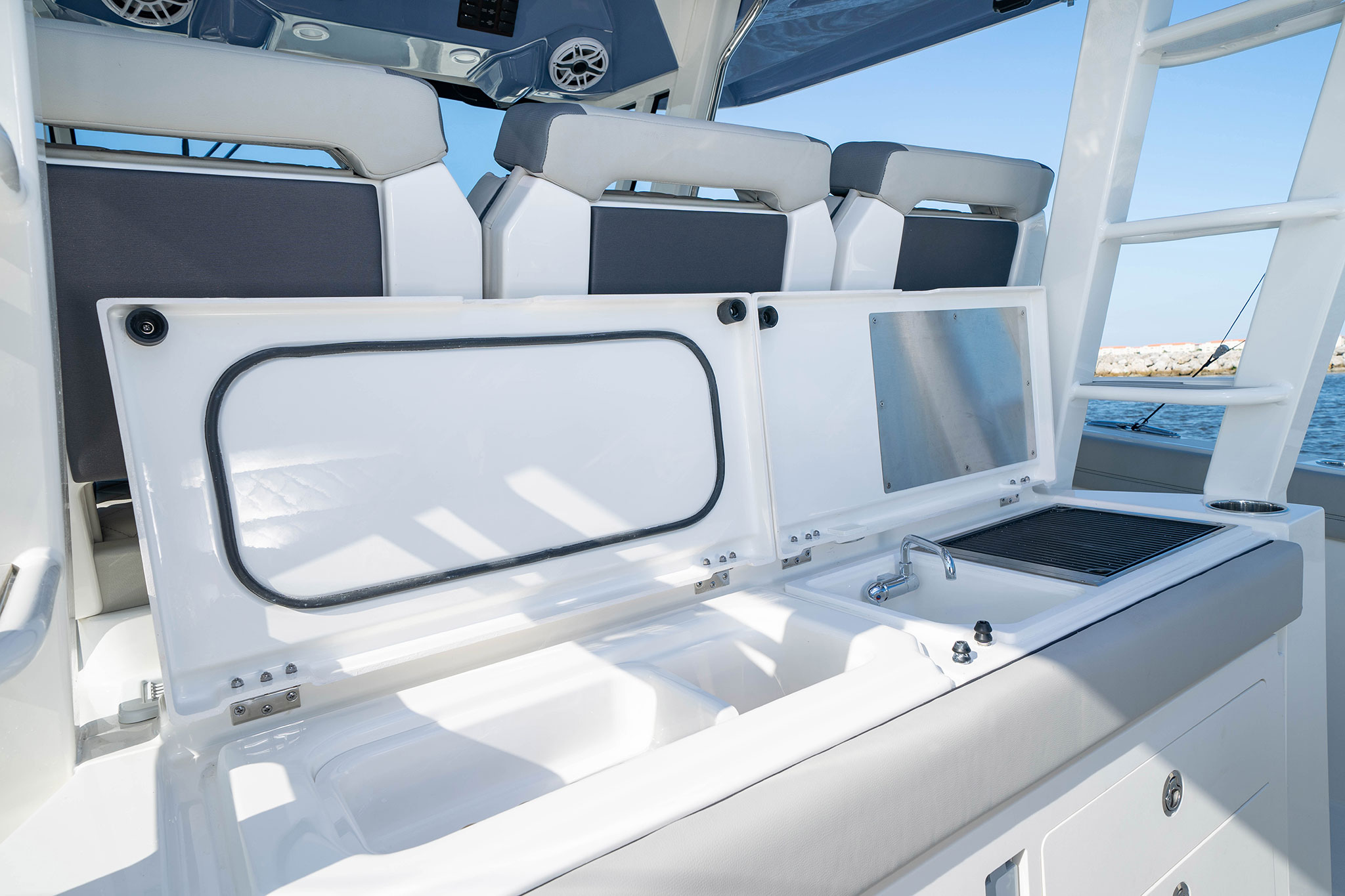 Even if you've done all of the above, there may still be times where some meal prep on board is involved and for those times, it's important to have the right equipment on hand to make your life as easy as possible.
Discover Boating recommends that boaters invest in some quality knives and a non-porous (read: non-wood!) cutting board, for hygienic reasons.
With the right tools, dining on board your boat can be both delicious and super easy. If your expectations are realistic, it's even possible to plan a menu that involves zero cooking at all.
If you and your crew aren't super fussy eaters, you will likely get away with offering perennial household favorites like sandwiches, hamburgers, hotdogs, salads and crudités.
But as an owner of a Pursuit Boat, you may be able to take these dishes to the next level by firing up the grill that's installed standard on many of the boats in our portfolio. Grilling on the water is fun, easy and most of all safe, so don't be shy to grill your hotdogs or hamburgers onboard and eat them hot! Of course, there's no need to stop there, either. Use your grill to cook that fish you just caught, or make epic vegetable dishes too.
And for those early morning trips on the water, why not make the nearby boats jealous and also impress your guests by making breakfast on the grill? There are few things as delicious as grilled bacon and eggs for breakfast.
Conclusion
Dining on board your Pursuit Boat is just one of the many activities that it was designed for. Whether you're out fishing far offshore, hanging out at the sandbar, swimming, diving or just going for a cruise, a Pursuit Boat will do it all comfortably, stylishly and reliably.
To make your onboard dining experience as smooth, hassle-free and fun as possible, ensure that your meals are properly planned ahead of your arrival on board. Also, do as much of the meal prep and cooking at home, where you've got everything you need in terms of equipment, and all of the space, with a floor that isn't moving.
By pre-prepping and cooking carefully planned meals, you'll be able to spend less time cooking and more time dining and enjoying your time on the water.
If you aren't already a Pursuit Boat owner, you're missing out on an unrivaled boating experience. Contact your local authorized Pursuit Boats dealer today to schedule a viewing.