Five Reasons Why Pursuit Boats Make Excellent Yacht Tenders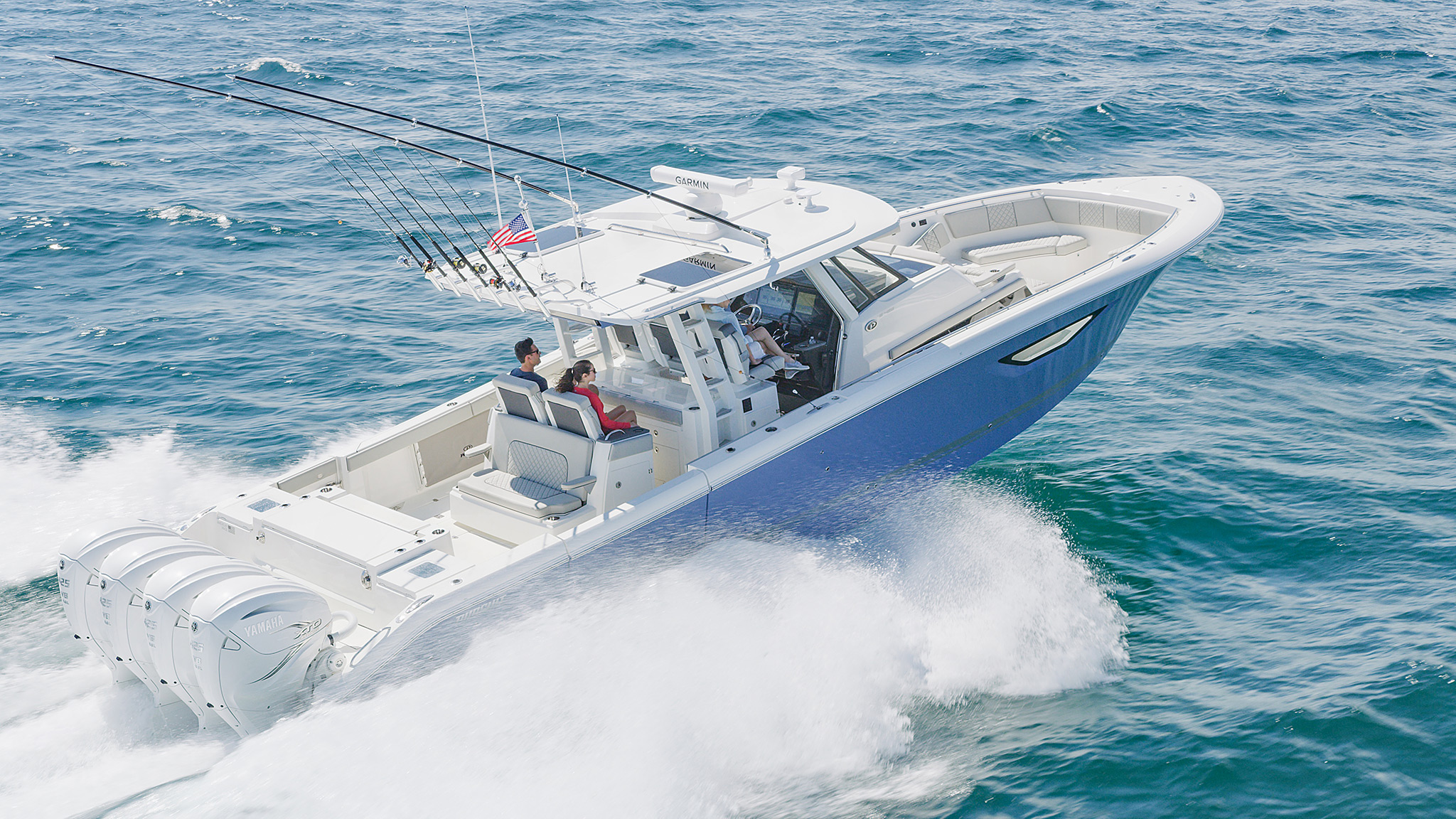 Five reasons why Pursuit Boats make excellent yacht tenders
Tenders are the unsung heroes of the superyacht world. Whether you're leaving the yacht to reach a secluded beach, a dive or fishing spot or a restaurant at a nearby marina, your tender is the boat that'll get you there and back. It's one of the most important tools on any superyacht.
For those reasons, it's important to choose the right tender for your yacht. In this post, we'll give you the five reasons why Pursuit Boats make excellent yacht tenders and why they're the best choice for your next yacht tender.
Pursuit boats deliver a smooth, safe ride

Superyachts are getting bigger every year and now, with 100m+ yachts now becoming commonplace, it's also become common for yachts to anchor offshore.

Therefore, it's really important that you select a tender that can reach the shore or marina regardless of the sea state on any given day. You can't risk losing your ability to reach the shore, particularly in an emergency or similar situation, because your tender can't go out in the conditions at hand.

Pursuit Boats are renowned for their superior dry, safe and smooth ride. Our Offshore series is famous for its combination of seaworthiness and luxury, while our Sport series boats are so tough that they're equally at home on the lake or offshore in the deep. But those aren't the only reasons why Pursuit Boats make excellent tenders.

Our hulls also feature our exclusive resin-infused fiberglass grid system for maximum strength and durability no matter the conditions. On deck, you'll find wide unobstructed walkways and ABYC-compliant handholds to provide the best possible safety when moving around, as well as comfortable seating to keep you high and dry no matter the sea state. All of these combine to make Pursuit Boats excellent tenders for superyachts.

Pursuit boats feature superyacht-quality finishes

Your superyacht is beautiful, luxurious and finished to the most exacting standards. Of course, your tender needs to reflect the luxury and refinement of its mothership. Going by that criteria, Pursuit Boats check all of the boxes.

Throughout our model range, Pursuit Boats feature the kinds of luxuries and world-class finishes that were once limited to superyachts only.

From our luxurious, hand-crafted patented seating & upholstery to our beautiful ultra-premium gelcoats and superyacht quality woodwork mated to solid surface tops in our interiors, you'll find superyacht quality finishes everywhere you look on a Pursuit Boat. And just like any superyacht, most Pursuit Boats include high-end features like LED accent lighting all around the deck and in the cabin, with electronics from the world's best brands. Every detail matters to us, making the experience onboard a Pursuit Boat indistinguishable from a superyacht.

Pursuit Boats is an established boat builder with a long legacy

The world of superyacht tenders is a minefield full of small, unproven builders with questionable practices, poor quality and nonexistent after-sales support.

Equally, many manufacturers would prefer to sell you a once-off custom design. While that might allow for more creative headroom, it also invites all of the problems associated with unproven hulls and building a product for the first time. In many cases, the truth is that you're buying a never-ending headache and a financial black hole.

In contrast, when you buy a Pursuit boat as your next superyacht tender, you're purchasing a boat made by one of America's original boat builders with decades of experience behind us. Fully 41 of those years have included building saltwater boats, altogether making Pursuit Boats the go-to brand for so many serious boaters and their families around the world.

Our boats are American-made, built by the finest craftsmen and women and assembled in our large, high-tech production facility. They've become known for their premium construction mixed with eye-catching design and attention to detail.

Once you take delivery of your Pursuit Boat, you'll be well taken care of by our large network of dealers and agents who will ensure that no matter where you're located, you will enjoy the best possible after-sales service and product support.

The Pursuit Sports Range delivers all of the features needed in a great tender

An excellent tender needs to be a lot of things to several people. To the yacht owner and their guests, the tender is the transport between the yacht and the marina/shore. When it's time to go fishing or diving, the tender is the platform they'll use. And for the crew, the tenders are a critical tool to ensure that the yacht is kept supplied and safe.

The Pursuit Sports range once again checks all of those boxes. Loaded with features and power, Pursuit's Sports models are equally competent whether they're used for fishing, diving, cruising or entertaining. And their capabilities have been recognized by publications and awards from across the industry.

The three largest models in the Pursuit Sport series, from the S 358 to the S 428, share Pursuit's next-gen hull designs with a steep but comfortable 22-degree transom deadrise, a sharp bow entry and reverse chine to make these hulls carve through even the roughest sea conditions.

And on the topic of comfort at sea, all three of those models also include dedicated space to accommodate an optional factory-installed Seakeeper gyro stabilizer. Apart from less roll while out at sea, guests will also find it easier and safer to board a boat fitted with a Seakeeper.

To ensure that everyone on board is cool even in the warmest conditions, Pursuit Sport models from the S 328 and up feature air conditioning, with the S 358 even offering separate, independent cockpit and cabin air conditioning.

Across the range, the Pursuit Sport family is beautifully and purposefully built. All of them feature oversized hardtops and full-height windshield systems. And just like any of our boats, they're built to superyacht standards, ensuring they'll be right at home next to any large superyacht.

The Pursuit Sport range has a model to suit every budget and every need:

No matter what your requirements for a tender are, the Pursuit Sport range of high-performance center console boats is the perfect choice.

Pursuit Boats are reliable and easy to maintain

Another reason why Pursuit Boats make excellent tenders is their use of proven components, systems and products from some of the world's best-known manufacturers.

Take a look through any of the features lists from our range of boats and you'll see an all-star list of recognizable brand names from the world's best manufacturers, including Yamaha, Fischer Panda, JL Audio, Garmin, FLIR, Sunbrella and many others.

We've carefully selected these brands to ensure maximum reliability of your Pursuit Boat tender, so that it can focus on the non-stop business of supporting your superyacht and its guests.

It also means that in the unlikely event that something goes wrong with any of those brands' products onboard, you'll be well supported by their global network of distributors, resellers and service agents. This way spare parts and replacements are easy to obtain and regular servicing, if required, can be performed without delay as well.

Having the best components onboard some of the best boats in the industry is all part of our ongoing quest to build what we call mission-capable boats. It's our factory's promise that a Pursuit tender will take you away from the mothership or dock and bring you back safely, every time.
Conclusion
The superyacht tender market has grown in line with the superyacht market itself. And as yachts have grown larger, so has the number of options available to yacht owners.
When choosing a tender for your superyacht, we've looked at five reasons why Pursuit Boats make excellent tenders. These include our boats' legendary dry, smooth ride, their reliability, their superyacht-level finishes, our robust boatbuilding heritage, and the benefit of the highest quality equipment brands available on the market.
If you're shopping for a new superyacht tender, contact us today to discuss your requirements. Our team is looking forward to hearing from you.