The Annual Pursuit Rendezvous needs YOU!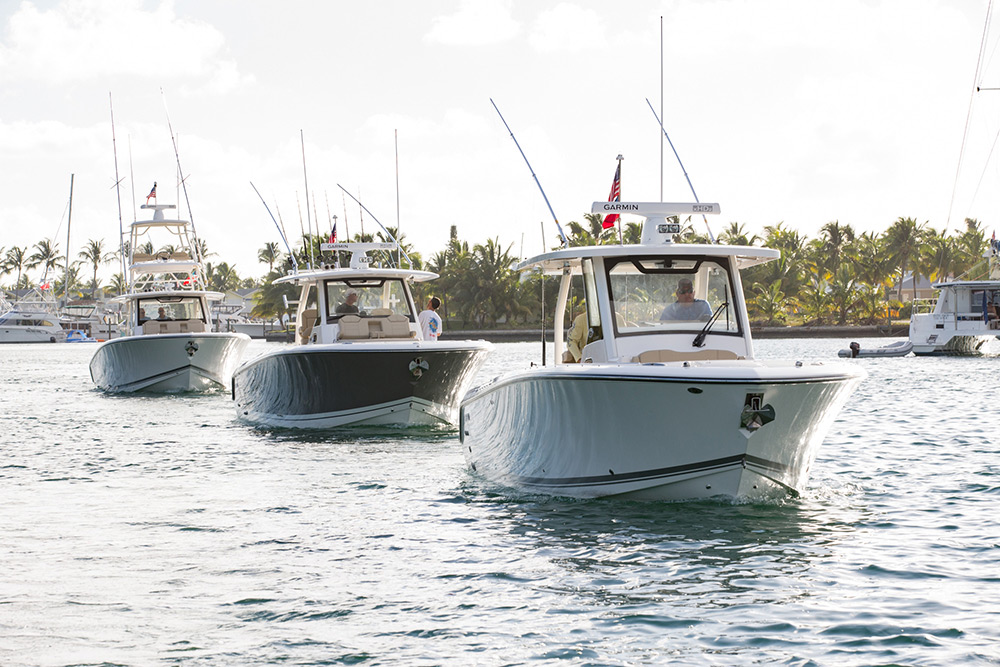 When you buy a boat from Pursuit Boats, you're not just buying a boat.
You're buying freedom. You're buying the opportunity to just get away from it all, whenever you want. And go wherever the wind takes you.
You're buying one of the finest machines made anywhere in America, by some of the country's most talented. You're getting a luxurious experience that is built on our decades of experience crafting the best finishes, the most comfortable ride, and the most durable components.
But you're also buying a lifestyle. You're now a Pursuit Boat owner and that means that you're automatically part of an exclusive group of like-minded people who are ambitious, adventurous, successful, and full of life, just like you.
It also means that you are automatically invited to be part of our amazing annual Pursuit Rendezvous events. Read on to find out what these are and why you absolutely need to make sure you're at the next one!
Get out and visit awesome locations
The Pursuit Boats family is going places. Literally.
Every year, Pursuit Boat owners are invited to participate in our Pursuit Boats Rendezvous.
Among other things, this is an opportunity for you to meet fellow Pursuit Boat owners who share your passion for boating and, of course, for the brand.
The event typically consists of several days of really fun social events and cruising. This past year's 2022 Pursuit Boats Rendezvous is a perfect example. We led a convoy of Pursuit Boats owners across Florida's waterways. It was an epic trip spanning four days, three of which were full days spent together enjoying some of the best boating experiences that the state has to offer.
In between long stretches of cruising, we enjoyed two days of fishing that included official weigh-in activities to record those epic catches.
Of course, no cruise is complete without a stop at some of Florida's best waterside restaurants and the convoy stopped at several prearranged spots to enjoy some fantastic lunches while socializing.
The trip even took in the famous set of locks nicknamed The Ditch. It was quite an experience.
Previous Rendezvous destinations have included the likes of Hawks Cay on Duck Key and Marathon Key in the Florida Keys, as well as Bimini in the Bahamas. In 2023 we are planning to go back to the Bahamas so if that sounds good to you, be sure to join us. We'd love to have you and your boat, along for the next trip!
Receive expert tips from our staff, OEMs & vendors
One of the many benefits of joining a Pursuit Boats owners Rendezvous event is the team made up of experts from our factory, our OEM suppliers and our vendors who join for the trip.
Pursuit Boats are packed with some of the best technology, products and systems on the market and we want our owners to be able to take full advantage of all that those parts have to offer.
So, if you've got a burning question relating to your boat - or others in our lineup - or if you need technical assistance with any of the products or systems onboard, whether right at the start or at any time during the event, our team of experts will gladly assist you. With their specialist knowledge, skills and equipment, they'll ensure that you have the best possible experience with us at all times during the event. And long after the event too.
To sweeten the experience even further, our service vendors from the big brands like Garmin, JL Audio and Fischer Panda routinely offer seminars during our rendezvous events. Here, owners can learn all about the products on their boats, new product launches, how to care for their systems, and neat tips and tricks they may not have known. It's one of the unique benefits of joining a Pursuit Rendezvous and it's the kind of resource that you will not typically have access to. So if that sounds good to you, be sure to sign up for the next Pursuit Rendezvous!
Get back on course with Pursuit
We have recently partnered with the Chapman School of Seamanship to offer a unique, custom two-day CPC100-Pursuit training course designed to help owners get the most out of their Pursuit Boat.
The course was conceptualized by our Director of Brand Management, Mark Taiclet, who approached the school to collaborate on the creation of a course that would make all of us better, safer boaters.
Buyers of new Pursuit Boats are given free access to the course but there is also nothing preventing existing owners from enrolling in either that course or any of the others offered at the Chapman School of Seamanship. In fact, we encourage it.
We're so convinced of the good work that the Chapman School is doing, that we invited them along to join us for our 2022 Rendezvous trip. Their team was on hand throughout the event, offering FREE individual and group courses to the attendees. The training was so well received that we plan to twist their arms into joining us for future events!
The Chapman School of Seamanship was established in 1971 and today, with 50 years to its name, has developed a formidable reputation for the quality of the training it delivers.
If you'd like more information on our collaboration with the School, read this blog post which goes in-depth on the topic. Alternatively, if you've already made up your mind and would like to take a course, then please contact the School or just contact us and we'll be happy to direct you to the relevant people.
Be part of the experience
Great people, amazing boats, beautiful sights and delicious food are all important parts of what makes a Pursuit Rendezvous an experience you won't want to miss.
But the most important one of all is the memories you'll make.
If you haven't yet watched any of the great videos we've produced, showcasing our Rendezvous events, please give this one from our 2022 event a view and you'll notice a theme: Happiness, fun and laughter together on the water with the people you care about the most.
We can all agree that that's what truly great boating memories are made of.
So for that reason, Pursuit Rendezvous events are really about connecting with those you love, while meeting other enthusiasts, other owners, and other boaters just like you.
While you're making memories, you'll be making friends. That's what it's all about.
Contact us to ensure that your name is on the list for the next Pursuit owners event. We would love to have you there.