Spring Launch Tips for Center Console and Dual Console Boats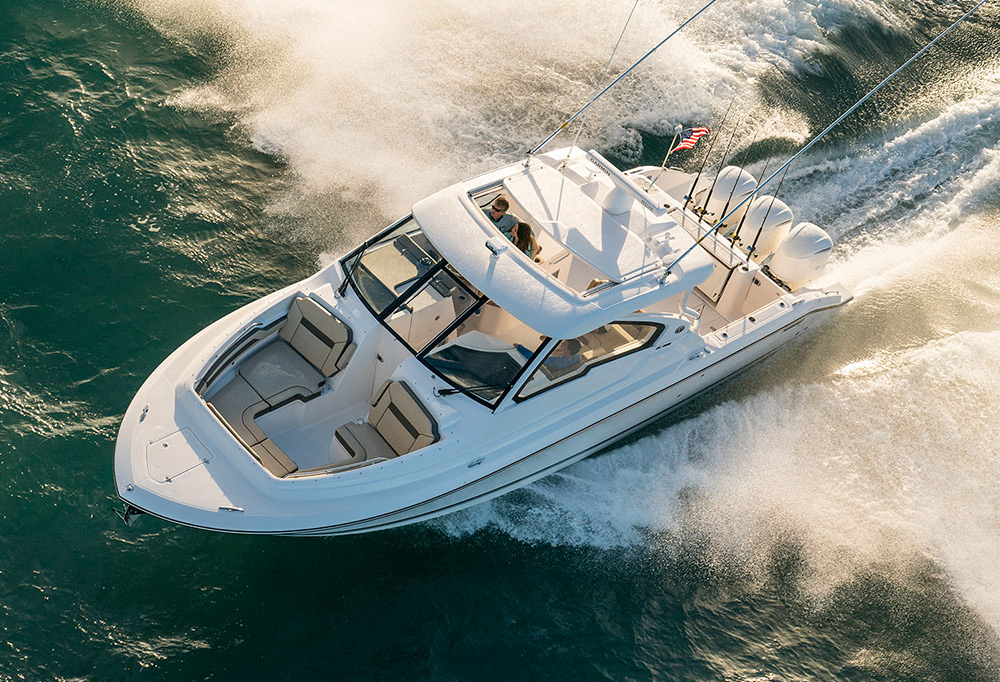 Spring launch tips for center console and dual console Boats
After a long winter, there's always huge excitement to get our boats back on the water. But before launching your center or dual console boat, be sure to check these key maintenance items to ensure that your boat is ready for the water.
Here's the Pursuit Factory's list of spring maintenance tips to make launching your boat a breeze.
Uncover, Clean, and Inspect Your Center and Dual Console before Launch

Even a boat meticulously prepared for winter storage should be thoroughly inspected before heading for the water. A good cleaning inside and out also provides the opportunity to inspect for cracks or gouges in the hull as well as spot any missing rivets. If your boat bottom paint is the ablative type and is now showing signs of wear from the previous seasons, it might be a good time to give it a fresh coat to protect against marine slime, shell, and weed fouling which can adhere to the hull. A new bottom coat ensures a smooth slick surface to improve fuel efficiency and performance.

Now is the time to clean and polish deck fittings and topsides with a mild detergent. Inspect scuppers and drains and make sure that they're clear. While you're doing the windows, check the condition of the wiper blades and replace them if necessary. As you move about the boat, check to make sure that you have all of the tools and onboard spares that you'll need, and when you're cleaning and polishing the interior don't forget to check the bilges and clean them if necessary.

Inspect and Refill Your Boat's Cooling System Before Launch

Many knowledgeable boat owners drain the cooling system as part of the winterizing process, especially in colder climates, to prevent the coolant line from freezing. Before refilling the cooling system, be sure to empty and clean the strainer and check the hoses for holes or cracks. If you have an outboard engine, check the rubber cooling impeller to ensure that it's clean and free of cracks. Keep a spare supply of extra coolant onboard for emergencies after refilling the system.

Inspect and change the fuel filters on your boat before launch

If you haven't changed the fuel filters from last season, now is the time to take care of that task. Also, check the fuel lines for cracks, especially if they have been exposed to freezing temperatures. If fuel additives were not used for a full tank for winter storage, then the gas is probably stale due to water contamination and or fuel separation. In that case, drain the tank completely. Adding a quality non-ethanol additive when you fill the tank can prevent engine damage from E10 gas.

Inspect and charge your batteries before launching your boat

Charge all batteries and if they have been removed, reinstall them. Check their fluid levels and if they're low then distilled water is best for topping them up. Coast Guard regulations require that all batteries are properly secured. All battery posts must be covered to prevent corrosion and shock hazard. If wingnuts are used, replace those with stainless steel lock nuts to ensure that all cables remain tightly connected without the risk of loosening. With batteries fully charged and installed, test all cabin and helm switches. If present, the float switch for an automatic bilge pump should also be tested for proper operation.

Check radio and other onboard electrical systems before launching your boat

Check the radio and all gauges for proper operation and inspect the antenna's condition. Navigation lights, shore power and charger, and wiring should all be checked and inspected. Make sure you have spare bulbs and fuses onboard for all systems.

Other general safety preparations for your first boat launch of the season

The checklist for both recommended and required safety and lifesaving equipment applies to all boats:

Sound signalling device in working order
Check distress signals and expiration date - replace if necessary.
Check PFDs (lifejackets)
Inspect life rings and cushions
Check fire extinguishers and recharge if necessary
Check and calibrate the compass
Check navigation lights to ensure proper functioning.
Check charts and replace them as necessary
Check that you have a functioning, clean radar reflector
Check and replace or replenish first aid supplies as necessary.
Check that your bailer and hand pump are onboard and operational.


Getting your center or dual console boat ready for launch can be an extensive process but it's one that we hope our tips have made that much easier.

Stay safe, stay well and above all enjoy your time on the water with your Pursuit family and friends!