The Pursuit Sport Series: Perfectly engineered Center Consoles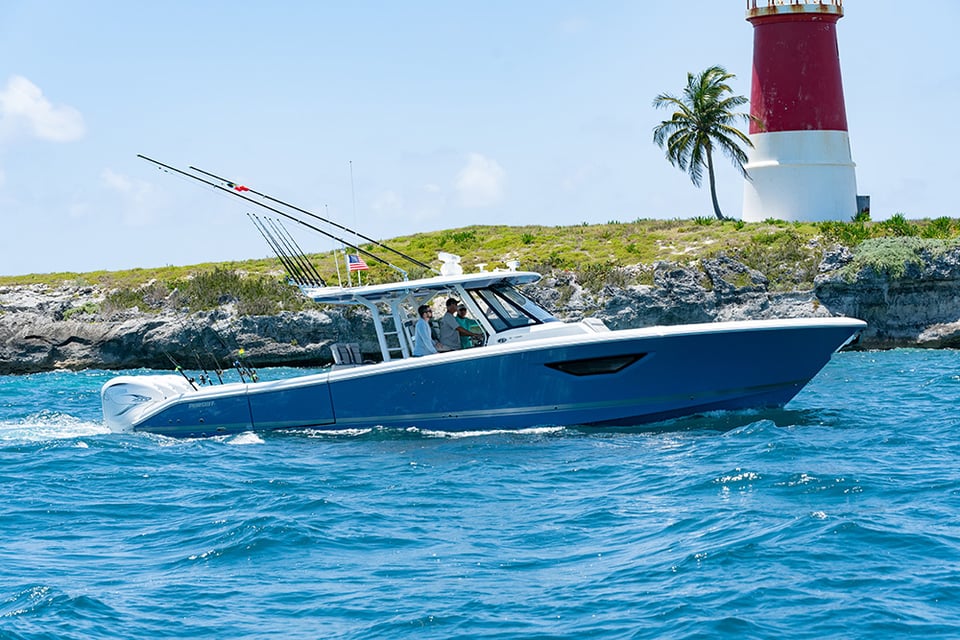 Whether you're shopping for your first center console boat or looking for one of the best center console boats anywhere in the world, look no further than Pursuit Boat's Sport Series.
The Sport series exemplifies our world-class engineering, design and manufacturing abilities. Read on to find out why these high-performance center console boats from Pursuit demand your attention.
A boat for every boater
The Pursuit Sport series of center console boats offers a product for every boater. Whether you're just starting out and in the market for a center console, or if you're a veteran boat owner looking to trade up to a bigger model, the Pursuit Sport series has a model for everyone. Buyers can choose from a range of sizes spanning from the 24' S 248 up to the range-topping 42' S 428.
The Pursuit S 248 is the newest in the Series and was introduced early in Pursuit's 2023 model year with one purpose in mind: To get new boaters behind the wheel of a Pursuit boat so that they can experience the perfection of the Pursuit brand for themselves.
Despite it being our smallest model, the S 248 still packs in all of the elements that make our Sport series so good. For example, generous in-floor fish boxes to both port and starboard, a wide open cockpit for fishing, socializing and watersports, dedicated tackle storage, a full-height windshield and even an easy-to-access head compartment.
Of course, moving up into our larger models means expanding on all of these features, but for new boaters buying their first center console, the S 248 is an irresistible option that should be on every shortlist.
Superyacht quality finishes
Pursuit Boats have a reputation for having some of the finest finishes available anywhere in the market, and that's intentional.
Our factory likes to refer to this as superyacht-quality finishing, and it's another way in which the Sport series is set apart from the competition in this category.
For example, the whole series benefits from Pursuit's plush, class-leading, super comfortable upholstery. Also, hatches and doors throughout the range are carefully engineered to be extremely durable, quiet and easy to use, so that every time you interact with them, they feel robust and high quality, not just in the showroom, but for years to come.
Award-winning innovation
Another reason to choose a center console from the Pursuit Sport series is that they're literally award-winning, with the S 428 stealing the spotlight in that regard.
The Pursuit S 428 is the flagship of the Pursuit center console series. This large vessel's 43.9' length and 13' beam make it a real head turner, not just for fellow boaters, but also for the judges at the 2022 Miami International Boat Show.
There, the Pursuit S 428 was crowned the 'Most Innovative Product in the Center Console/Walkaround Fishing Boats' category by the NMMA. This award recognizes manufacturers and suppliers who bring new, innovative products for the boating industry, to market.
One of the reasons why the S 428 won the award is its extremely unique second row of converting seats on electrically-actuated slides that allow them to slide out of the way and increase the size of the cockpit.
Innovation is part of the Pursuit Boats DNA, and it shows in the smallest of the range too - the S 248 that we mentioned earlier. That boat has an extremely innovative heads compartment built right into the center console, accessed via a super convenient front access door.
The S 248 also has class-leading storage that our engineers packed into every available space, to make your day on the water as comfortable as possible. And speaking of comfort, the S 248 offers loads of it thanks to its biggest-in-class cockpit. It's not just the biggest in its class but the biggest in its class by far.
All of these are just some of the reasons that we remind our customers that their whole family will love being onboard a Pursuit.
Get there on time
The Pursuit Sport series lives up to its name with engineering and power packages which together ensure that you'll never be fashionably late - unless you plan to be!
Whether it's getting to your fishing spot while the fish are still biting, making a restaurant reservation on time or simply cruising to the sandbar, the Sport series will get you there quickly, safely and on time.
Pursuit has a long-standing partnership with Yamaha which supplies the legendary outboard motors that power all of our boats.
Our engineers have carefully considered how much power our boats need, and how much power our owners want. The outboard packages available for the Sport series are therefore a reflection of our well-honed ability to engineer luxurious, versatile boats that are still genuinely high-performance sports boats.
Depending on the specific Pursuit you buy, you'll be comfortably shoved along by up to four of Yamaha's range-topping 425 V8 5.6L XTOs. But regardless of how much power is on the back of your Pursuit Sport boat, thanks to Yamaha's famous engineering, you can be guaranteed that you'll always have the power to get wherever you need to be.
And thanks to an optional comprehensive Garmin Marine electronics suite on every Pursuit boat, you'll be guided there and back home safely with all of the information you need, at your fingertips at all times. Literally.
Packed with features
The Pursuit Sports series is packed with amenities and conveniences guaranteed to make your time on the water as memorable as possible for the whole family, no matter how you prefer to use your boat.
Fishermen are well catered to with huge amounts of tackle storage, rod holders and fish boxes. Swimmers, diving enthusiasts and general watersports lovers, meanwhile, have easy access to the water thanks to side access doors available as standard on several models. The S 428 dials this convenience up to eleven, with a side access door to port and a hydraulic beach platform to starboard.
Large social zones featuring our famously comfortable upholstery are present on every boat throughout the Sport series, guaranteeing pure relaxation on the water. Several models even have convertible sunpads and chaise loungers in the bow for luxurious sunbathing sessions.
Conclusion
The Pursuit Sport center console series of boats truly has something to offer every buyer and every boater.
Unlike many of our competitors, the Sport series benefits from Pursuit's relentless focus on versatility and amenities for the whole family's enjoyment.
That means that we don't force you to choose between a fishing boat or a cruiser. You can have both when you buy any of the models in the Sport series.
Contact your nearest authorized Pursuit Boats dealer today to view the range and place your order. Our production teams are standing by.