Bonding With your Kids Through Fishing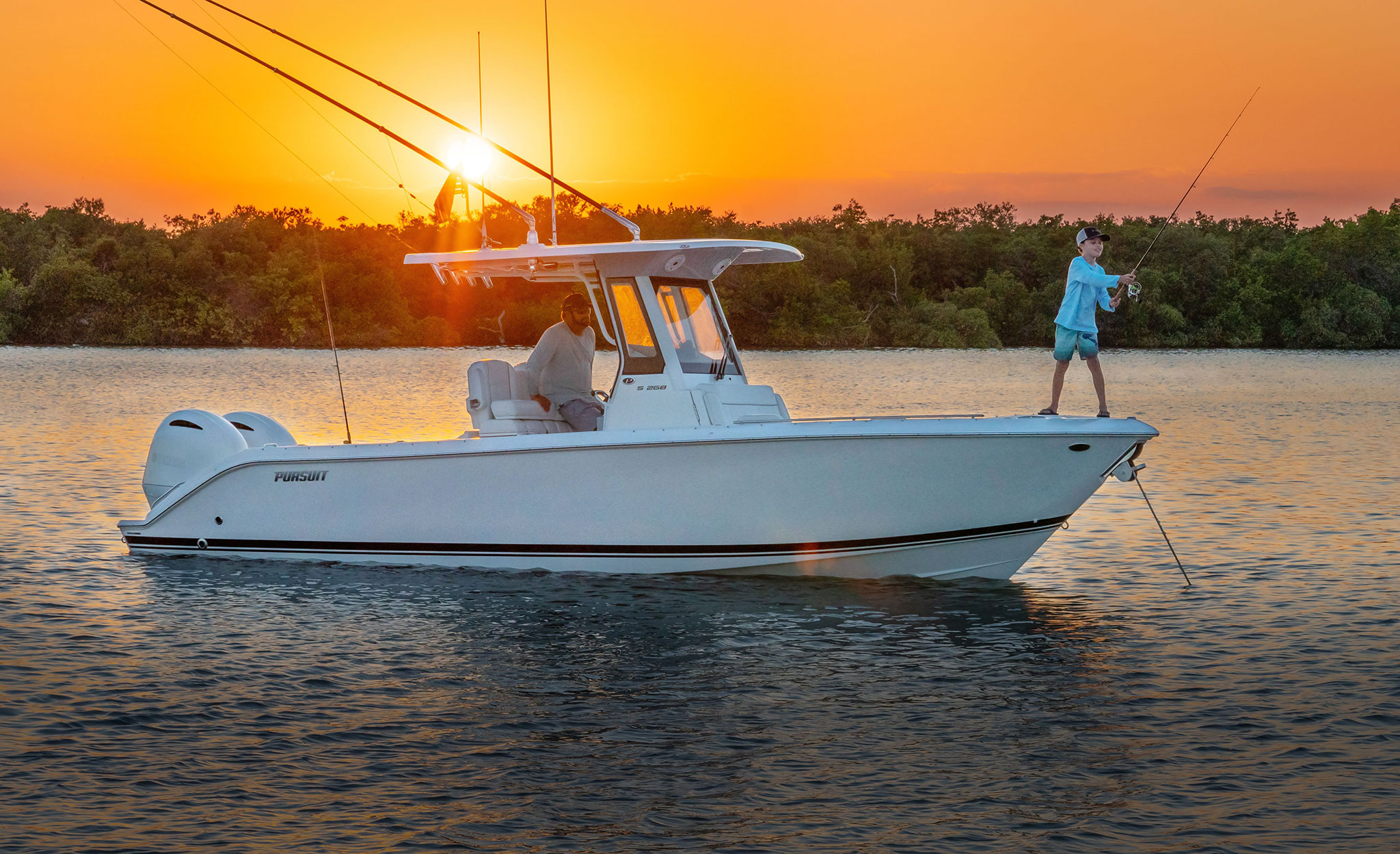 Here at Pursuit, family is extremely important to us. Whether you're our biological family or our Pursuit family, you are important to us.
Staying with the family theme, this week we're inspired by the powerful message of bonding with kids that we featured in our Pure Memories video. If you haven't watched it yet, please do give it a view:
Fishing together on a boat is not only an especially exciting outing for kids, but it's also high-quality one on one time for both of you. So if you're looking for a way to make memories with your kids, consider heading out for some fishing off your boat. Start planning your fishing adventure with them using our top tips for bonding with your kids through fishing.
Plan for a shorter day
When you take kids out fishing or even just out on the boat in general, your priority should be to make the experience as fun and positive for them as possible. After all, you want them to want to return again and again with you! One of the best ways to get that right is to plan for a shorter day out.
The excitement of being on the water with all of the sounds, the sights, the smells, and the various other experiences of boating can be pretty overwhelming - in a good way - for kids, but for that reason, it's also quite exhausting for them.
Depending on their age, some kids may even still require the occasional nap.
So our advice is that when you're planning a day on the boat with your kids, plan for a shorter day than you'd usually expect to go out for. This way they'll be guaranteed a fun trip out and then you're back at the boat ramp before the kids start getting miserable!
Pack lots of snacks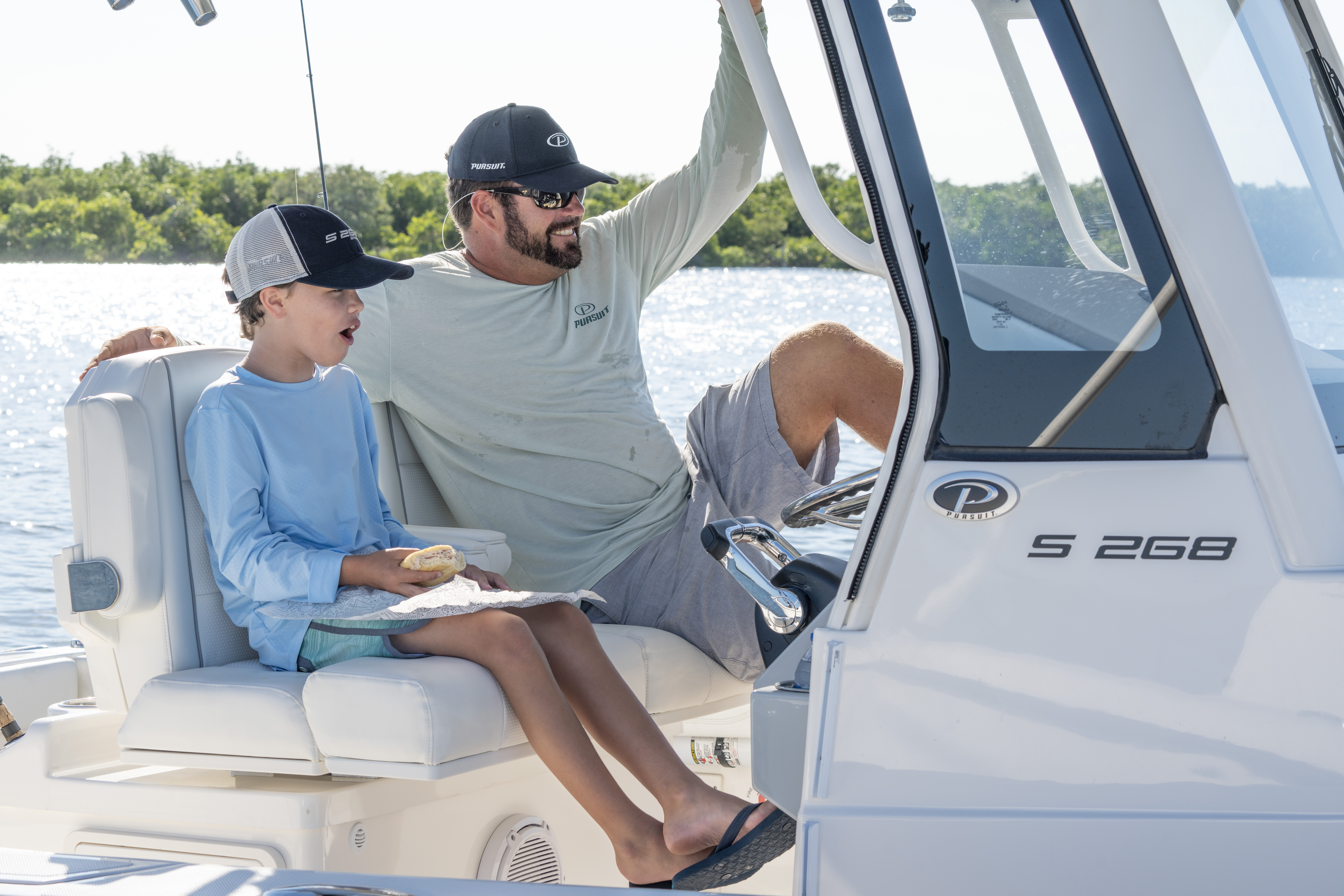 Keep your kids engaged, alert and enjoying themselves by bringing along a variety of healthy snacks.
If you're bringing along any snacks that need to be kept cold, be sure to pack them into a good quality cooler, along with their drinks.
Snacks such as chocolate or anything else that can melt, are not going to be practical choices for bonding with kids through fishing.
And if you don't already have any on board, then don't forget to bring along some cutlery and some wet wipes to clean up little mouths afterwards!
Use kid-friendly tackle
You can make this part into a really fun activity to do together before you go out on the water. Take the kids with you to your nearest fishing tackle retailer and let them pick out their own fishing rod or fishing pole. You can even let them pick the bait they're going to use.
Add to the excitement by letting each kid pick out their own little tackle box where they can store all of the bait and other bits that they've chosen.
As a rule, the best fishing poles for kids are ones that make casting as easy as possible for them and, most of all, are physically small enough to make them usable by small hands. Pay special attention to the length of the road as well; it should be 4 feet in length, at most.
Choose the right fishing spot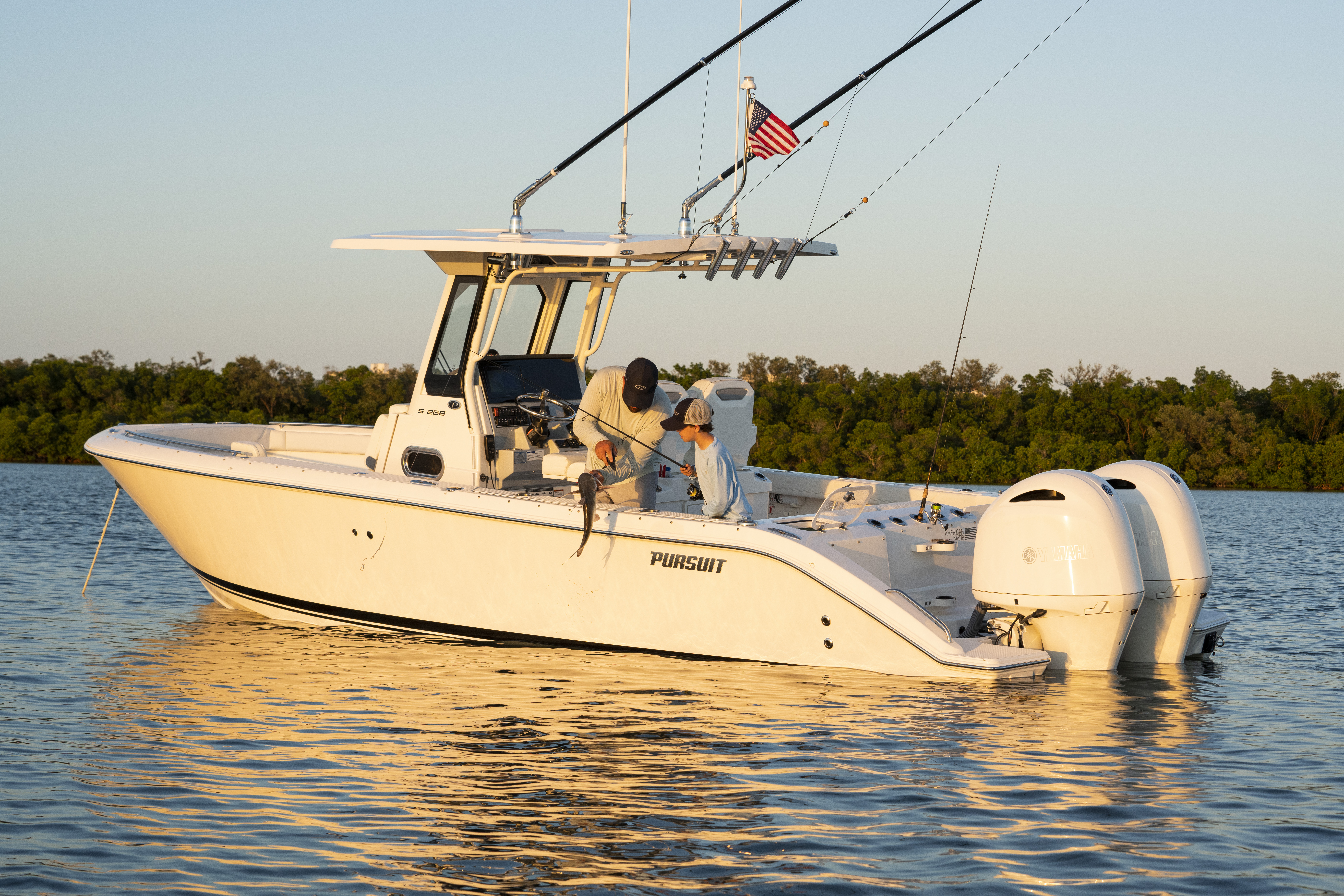 Being together on the boat is memorable, but the part that makes for the best pictures and the brightest memories is when your child hauls in their catch.
To give your kids the best chance at landing a fish, try to select a spot that offers the best chance of them actually catching something.
If you're not sure where to start looking, feel free to ask at the local bait shops or marinas otherwise check out any of the various online forums. There are plenty of enthusiasts who will be more than happy to give you their advice on where to fish and help you build memories with your kids through fishing.
Pay attention to the weather
The best memories with your kids will be made during ideal weather and water conditions.
Calm seas or a flat lake is a great way to put your kids at ease and allow them to focus on enjoying their time with you and bonding with you, rather than everyone worrying about the conditions or getting cold, wet or - at worst - seasick.
Your specific seasonal conditions may vary but in many states, the best time to go fishing is often Autumn. By then, the worst of the Summer heat has subsided and weather conditions tend to be milder.
By picking a beautiful day with perfect water conditions, you will guarantee the best possible opportunity to bond with kids through fishing.
Don't forget the sunscreen & hats
With all of the excitement of having kids on board, it can be easy to forget to apply sunscreen. Make a point of protecting your kids from the sun by getting sunscreen on to them to properly cover all exposed areas, especially the face, neck and ears.
A hat is an effective additional measure to help keep the sun off their face and it will reduce eye fatigue too. Add a fun pair of kid sunglasses for some really memorable photos!
Focus on them & don't be distracted
Fair warning: If you're a fishing enthusiast, you're going to have a tough time with this tip, but here it is:
Don't do any fishing for yourself while your kids are fishing!
Remember, this is your bonding time with them and the best way to do that is to give them and their experience with you, your undivided attention. Leave your rods at home/stashed away this time, and focus on them.
Be present. Take in the experience. Enjoy their smiles and their body language and share in their excitement.
Offer guidance. Celebrate the big catch together. Untangle a line, help with putting on bait, and assist with a cast. Be there for them.
They won't be little kids forever, and this is your chance to be their hero and make memories that will truly last a lifetime.
That leads us perfectly to our final tip:
Take lots of pictures!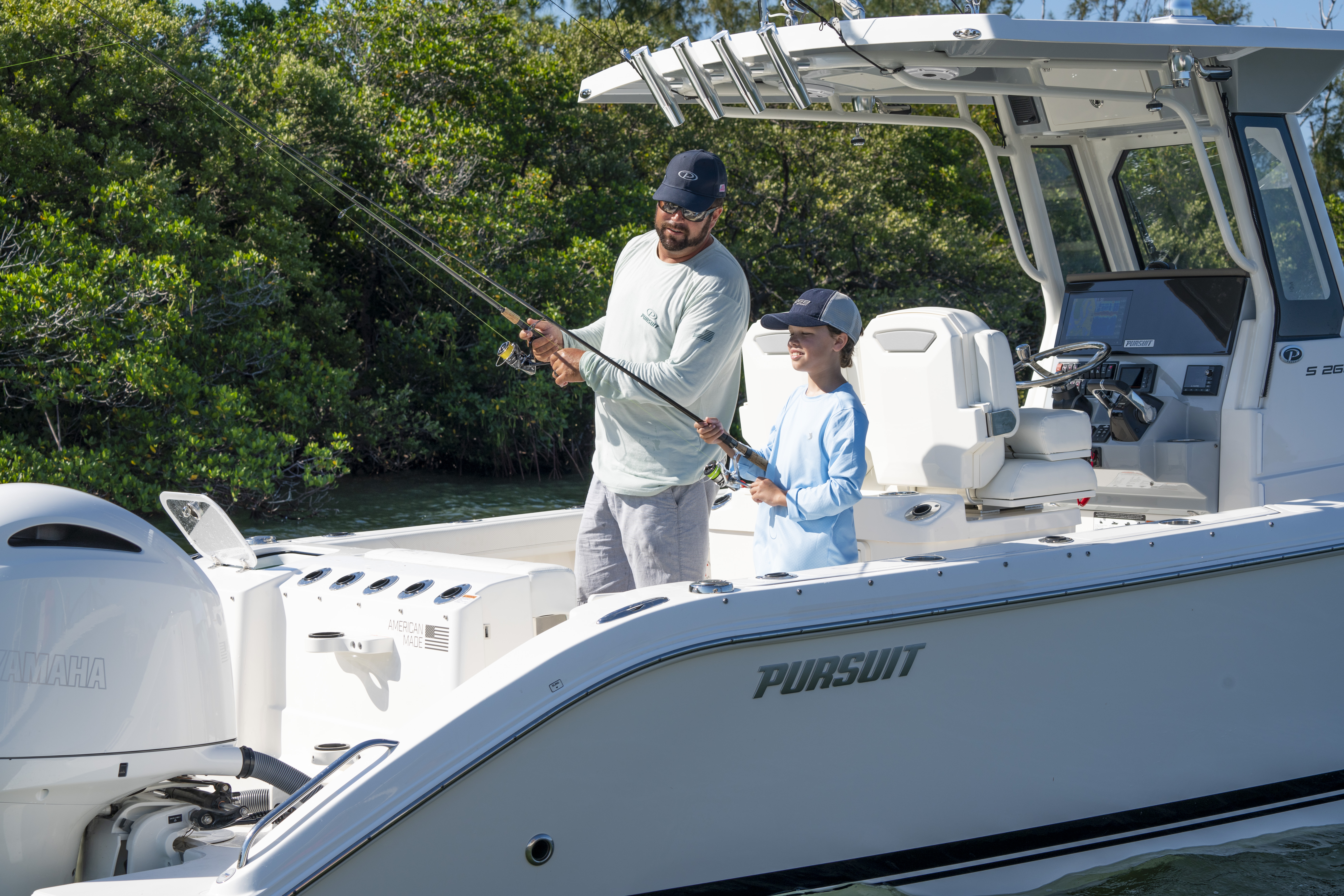 It sounds like such an obvious thing to say, but with all of the excitement and busyness of having kids on board and fishing, it can be very easy to arrive at the end of the day only to realize you took very few pictures. It's normal. It happens to the best of us. But try and avoid it, because again, these opportunities can be fleeting.
One idea might be to have a designated person on board to take the photographs. So while you are busy assisting with preparing fishing tackle, casting lines and everything else, the designated photographer can be busy snapping those all-important photos.
Some of our favorite photos are childhood pictures of us holding our catch next to our proud parents. Allow yourself to build those memories, but make sure you catch them on camera!
Getting out on your boat and bonding with your kids through fishing is a great way to make memories that will last a lifetime.
To help you prepare for the best possible time out on the water, we've provided a list of our top tips for keeping the kids happy and delivering a positive experience that they won't easily forget. If you love boating with your family as much as we do and you aren't yet a Pursuit owner, check out our range of boats. Our boats are designed to offer something for everyone in the family. They're comfortable and safe and have all of the features you'll need for a great day out on the water.