Pursuit Owner Interview with the King Family
The Pursuit Sports Series of center console boats is a firm favorite with boating families across America, and it's easy to see why. Pursuit Sports boats offer plenty of space, excellent fishability, sporty performance and comprehensive features all wrapped in our famous yacht quality standards.
The King family is one such family. We caught up with them on board their boat, a gleaming Pursuit Sport S 378 Sport named 'Prospector', during our 2022 Pursuit Owners Rendezvous event, to talk to them about their love for boating with Prospector.
Mixing family and business with pleasure
The King family, made up of dad Mark, mom Emily, and daughter Madeleine, are based in South Florida's Lighthouse Point, only a short 90-minute crossing to their favorite boating destination of the Bahamas.
The family are true adventure seekers. Mark is a certified rescue diver and holds a USCG 100-ton Master's license. He met Emily in Afghanistan and together, they have enjoyed one adventure after another ever since.
They use their boat in various ways but they highlighted their time spent onboard with loved ones as being particularly special. "Everyone just totally enjoys it," said Mark, adding that the couple even entertains business partners onboard. "We have a lot of customers who join us on the boat, they love it!
Mark and Emily especially enjoy having the well-appointed cabin available for keeping daughter Madeleine and her young relatives and friends happy during longer trips. "This boat is so well-equipped for families," Mark noted. "It makes a huge difference for younger kids' ability to enjoy themselves given that we are able to turn the air conditioning on and let them go down into the cabin and cool off. It really makes those trips comfortable."
Entertainment for everyone onboard
Just like any Pursuit boat, the Pursuit S 378 features the thoughtful design that our customers have come to know and love and it's a topic that Emily was quick to discuss with us. "Our boat works so well for entertaining because of the great spaces available in both the bow and in the cockpit. We can use the two areas for different times of the day or for different meals. For example, we often like to enjoy appetizers in the bow seating area while in the stern, we can enjoy food right off the grill."
Mark drew attention to his love for the boat's comfort, delivered by its class-leading equipment and its overall sense of spaciousness matched with the accessibility it provides for those onboard. "Our boat's equipped with a Seakeeper for added comfort on long trips. Thanks to our involvement with charitable causes supporting the United States Special Operations community, we have some military veteran friends who are mobility-challenged, but they love to be on the boat with us and with the Seakeeper plus the ample space on board and the multiple handrails, it really allows them to move around comfortably, just like they would've prior to their injuries."
Safety at sea
Pursuit Boats are designed and engineered to tackle the most demanding sea conditions safely, giving owners complete peace of mind and the confidence that their boat will get them home safely every time.
Having experienced some rough water crossings in Prospector, Emily had nothing but praise for the way in which their S 378 handled the difficult sea conditions. "Having a young daughter on board, I kept saying 'Thank God we have a Pursuit' because we felt extremely safe and secure at all times. Being in such a well-made boat really made us feel very confident. Bad conditions happen sometimes and being in a Pursuit makes us feel prepared. We would absolutely buy another Pursuit Boat when the time is right."
A love for being on the water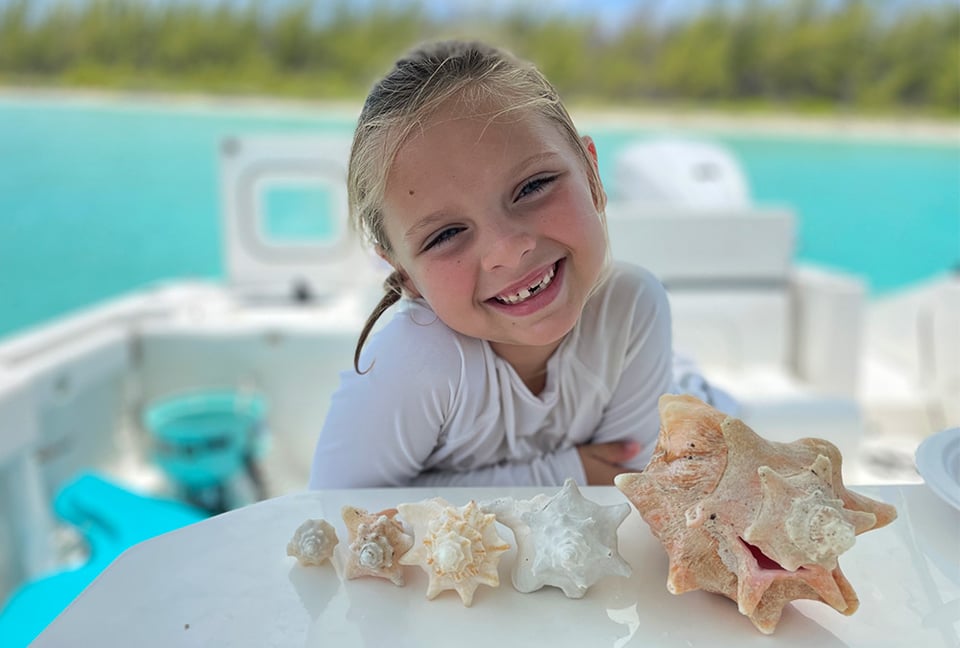 As a family that loves outdoor adventure, the Pursuit S 378 was an obvious choice that perfectly suits their needs, their expectations and their lifestyle, according to Emily. "We like to feel connected with the water and so we really like the center console layout of our S 378."
Daughter Madeleine was equally enthusiastic about Prospector. "I like to go fishing and snorkeling on the boat, I love collecting seashells and I love spending time with my family," she said, flashing a smile that could light up any room.
Conclusion
The Pursuit S 378 is a best-selling member of the Pursuit Sports series. The Pursuit Sport Center Console boat series offers boats ranging in size from 24 ft to 42 ft in length, so there's a boat for every family and for every adventure.
The Sport series is defined by versatility, with facilities that make it an excellent platform so whether you're into fishing, entertaining or cruising, the Sport series can do it all excellently.
Throughout the range, you can expect to see plenty of rod holders, in-floor fishboxes, livewells and dedicated storage for fishing gear. Larger models feature additional seating, cabins, head and berths below deck, as well as facilities like a wet bar and cooking amenities for those epic weekend getaways. All models are reliably powered by Yamaha outboards.
To place an inquiry or to book a test drive, contact your nearest authorized Pursuit Boats dealer, or simply contact us and we'll put you in touch with one.