Owner Interview: Christine & Tony Strange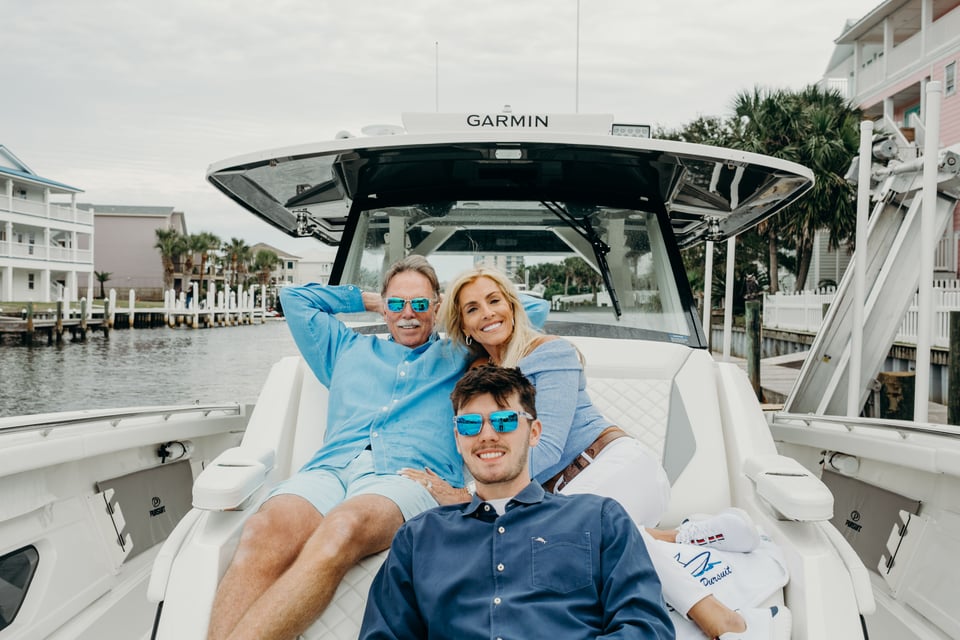 We always say that Pursuit Boats are designed for the whole family, to make everyone comfortable and happy no matter what kinds of adventures you're heading out on.
Unlike many of our competitors, Pursuit Boats are specifically geared towards being used for many different activities on the water and today, we're talking to a family that perfectly exemplifies that category.
Tony and Christine Strange, together with their 21-year-old son Jake, are proud owners of 'Strange Pursuit', a Pursuit S 428. Though the family is based in Atlanta, they spend as much time as possible at their beach house in Pensacola, Florida. The house has its own private dock to which they've fitted a large boat lift so that Strange Pursuit is on hand any time the family feels like a cruise aboard their beautiful machine.
Family-oriented fun
Tony and Christine have together owned over a dozen boats over the years, so it's safe to say that boating is a firm part of their lifestyle. So much so that Jake had his first taste of boating within only a few weeks of being born. "Jake went on his first boat trip when he was two weeks old," Tony recalled. "He's grown up in the boating life and today, in his eyes, this is his boat. But Mom and I always get first dibs!"
"We use it much more than just a sporting boat," Christine added. "We use it for cruising and for trips all along the coast. We're creating memories with our family."
As a breast cancer survivor, fashion model and fitness fanatic, Christine is passionate about healthy living and promoting a balanced lifestyle to her thousands of Instagram followers. For her, Strange Pursuit is emblematic of the kind of lifestyle that she'd like to see more women taking advantage of. "I want women to see that this type of boat is fun, too, for more than just fishing but for cruising, sunbathing, and for simply dropping the anchor and swimming. I also want people to understand that it's a family boat and that it's really not a lot of work. In comparison, we used to own huge boats from another manufacturer and honestly, those feel like a lot of work. Our Pursuit goes fast, it's sporty-looking, and we're very pleased with it all round."
Pursuing the Perfect Pursuit
The family ordered Strange Pursuit in late 2020, but not before doing their homework. "We went down to Florida and looked around at several different models from different manufacturers," said Tony. "We looked at every other boat in that class and there was one in particular that we really liked and actually decided to buy. But before we placed that order, we took one last trip to Florida to check out a Pursuit S 428. We took it on a sea trial, inspected it, opened and closed the hatches etc. Then we went a few dozen miles south and test drove the other boat we were originally planning to buy, and really, within 45 minutes we'd made the decision to rather buy the Pursuit."
According to Tony, having tested both the Pursuit and the other boat from a competing manufacturer, the superiority of the Pursuit S 428 was as clear as day. "We fell in love with the Pursuit's ride quality, its weight and how sturdy everything on the boat was. I really began to appreciate Pursuit's no-compromise engineering. There was a noticeable difference between the two boats, the Pursuit felt 'beefier', it had a beefy construction that felt very solid compared to the other boat."
Another selling point for the family was the fact that Pursuit boats come with Yamaha outboards - their preferred motor brand.
The family took delivery of their new boat in July 2021 and christened it Strange Pursuit, in honor of the family's love for travel and adventure, and in simultaneous recognition of their family surname and Pursuit the brand.
Ironically, while the competing boat had initially been a drawcard for the family due to the high level of customization it offered, Strange Pursuit's high level of standard specification has been so satisfactory to the family that they haven't felt the need to carry out any upgrades in the year that they've owned it. "We got the boat the way we wanted it," Tony noted. "There wasn't much to do to it."
A boat for every occasion
Both Tony and Christine emphasized the versatility of their S 428 in terms of the way it effortlessly adapts to the various ways they like to go boating. "I especially like the seating and the areas in which you can lay out and lounge," said Christine. "It's so much easier than some of the larger boats we've owned before. There's loads of versatility with the tables and seating configuration on our boat, and getting on and off it is super easy. The swim platform lowers at the touch of a button, the air conditioning keeps you cool while you're sitting and driving. And the overall care of the boat is so easy - you just hose it down, put it on the lift, and you're done."
"To me, though, being on the boat is all about the experience of being together on the boat and creating memories," Christine continued. "Of course, I enjoy the fishing aspect - I especially enjoy my pink fishing outfit and my pink fishing rod (the full outfit is key for me!) - but also just taking it out and going on trips. Just making memories. We even want to take it to the Bahamas at some point. We live in Atlanta, so the boat creates an opportunity for us to get away as a family. It's hard to get 20-something-year-olds interested in doing something with their parents, so the boat becomes a great opportunity for us to stay connected with Jake."
"The boat is equally good at everything we do with it," Tony added. "It can be a hardcore fishing boat but it also dresses up nicely to go to dinner and tie up at a restaurant. And then it also serves really well as a floating party barge. This is the first boat we've owned that fits all three of those purposes equally well."
The couple also highlighted the excellent service they've received from both their local Pursuit dealer, Legendary Marine, and Pursuit Boats, in resolving occasional technical issues. "I can't say enough positive things about the dealership, Legendary Marine" said Tony. "We've had a great experience with both them and also stand-up service from Pursuit. If we've had a problem, the answer was always just 'Yes, we're sorting it out for you'. I never once had to call either of them to follow up. They have all really stood behind the boat."
Conclusion
Clearly, Christine and Tony Strange are extremely happy with their decision to buy a Pursuit S 428. As with any other Pursuit Boat, it's the perfect all-rounder, with features that will appeal to the whole family and which together ensure that your Pursuit is ready for every adventure you want to take it on.
If you're ready to make the leap to an S 428, contact your nearest authorized Pursuit Boats dealer or connect with us via our Contact page and we'll put you in touch with them.