Pursuit Owner Interview with Brandon Weitz - OS 385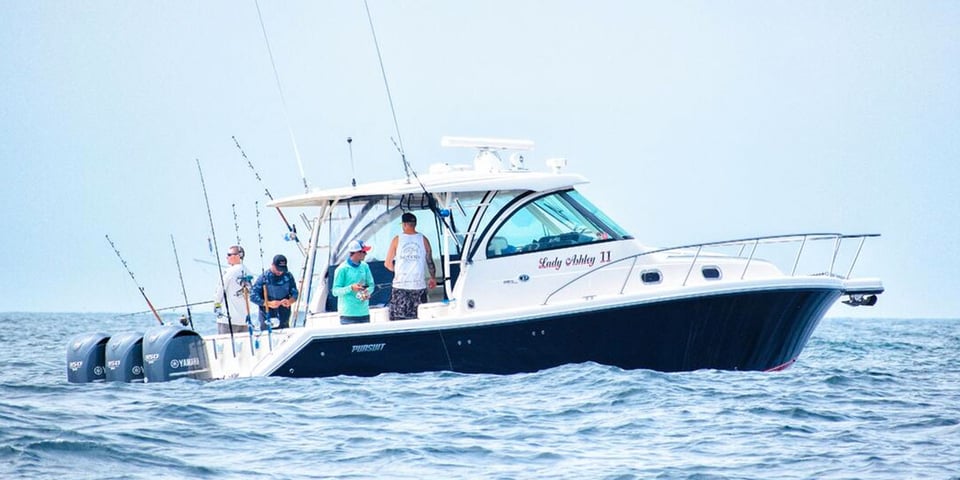 Long Island native Brandon Weitz is a man of many talents. In addition to holding a Real Estate Sales License, he's found time to earn his United States Coast Guard Captain's License, all while developing a formidable social media presence across various channels. And on top of that, he makes time to help at a local bait and tackle shop.
But out of all these activities, the one that truly makes his face light up is the time he spends fishing aboard Lady Ashley II, his beloved Pursuit Offshore series OS 385. We sat down with him to talk about boats, fishing and being a social media celebrity.
A little bit of history
Prior to owning his Pursuit OS 385, Brandon and his father owned a decades-old 21ft inboard-powered boat from another manufacturer.
The little boat had been a dependable and fun part of the family's holiday activities throughout Brandon's childhood. It received a full overhaul in the mid-1990s, ensuring that by the time Brandon reached adulthood, he could still take the boat out on his own into the sheltered bay near the family's holiday home in the Hamptons. "I couldn't go offshore with it; it was just a bay boat," he recalled. "I put a few rod holders into it and went fishing with it in the bay. That boat doesn't compare at all to this Pursuit of ours, though!"
Make that a double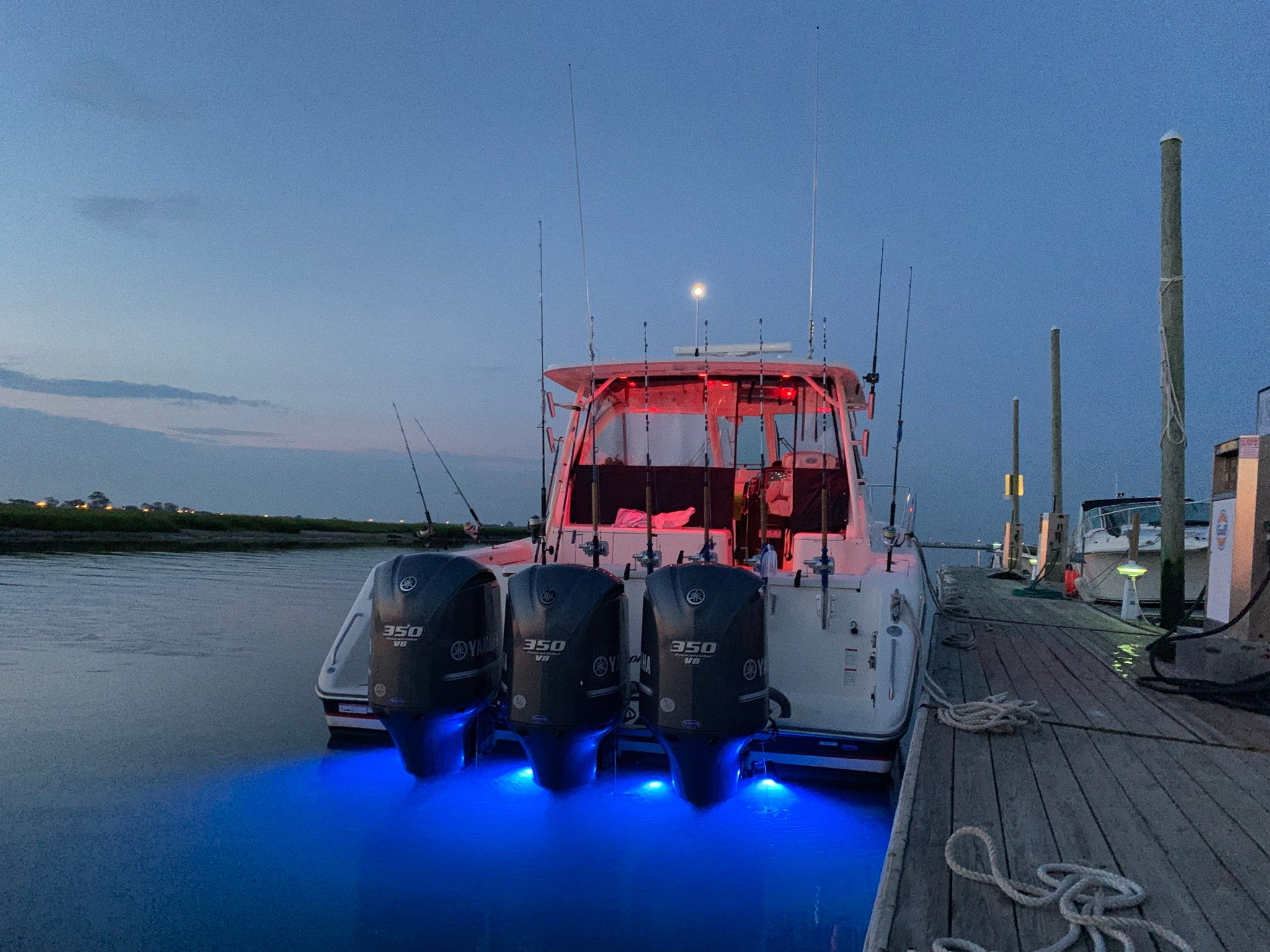 The new Pursuit OS 385 was a substantial upgrade from the family's previous boat, not least of all because it's almost double the size. "Going from a 21 ft inboard boat to a 40 ft with triples is a big step up," he said. "I'd never experienced anything like it before. The size and the power make it a whole new game."
The OS 385 truly is on a different level than other boats in its class. As one of the most popular models in the Pursuit fleet of premium offshore boats, the OS 385 combines the performance seaworthiness and fishability of the world's top inboard convertible and express offerings, with the luxury interior appointments of the most comfortable cruisers
Of all of the OS 385's features, Brandon highlighted the enclosed helm as a particular selling point. "The enclosed helm is a major positive for us because here on the east coast, you need to be out of the elements, especially since we use the boat from April through to December. It makes the boat so comfortable. I can't imagine going fishing without the heating in the wheelhouse when we're out in 20 or 30-degree weather."
In Pursuit of fish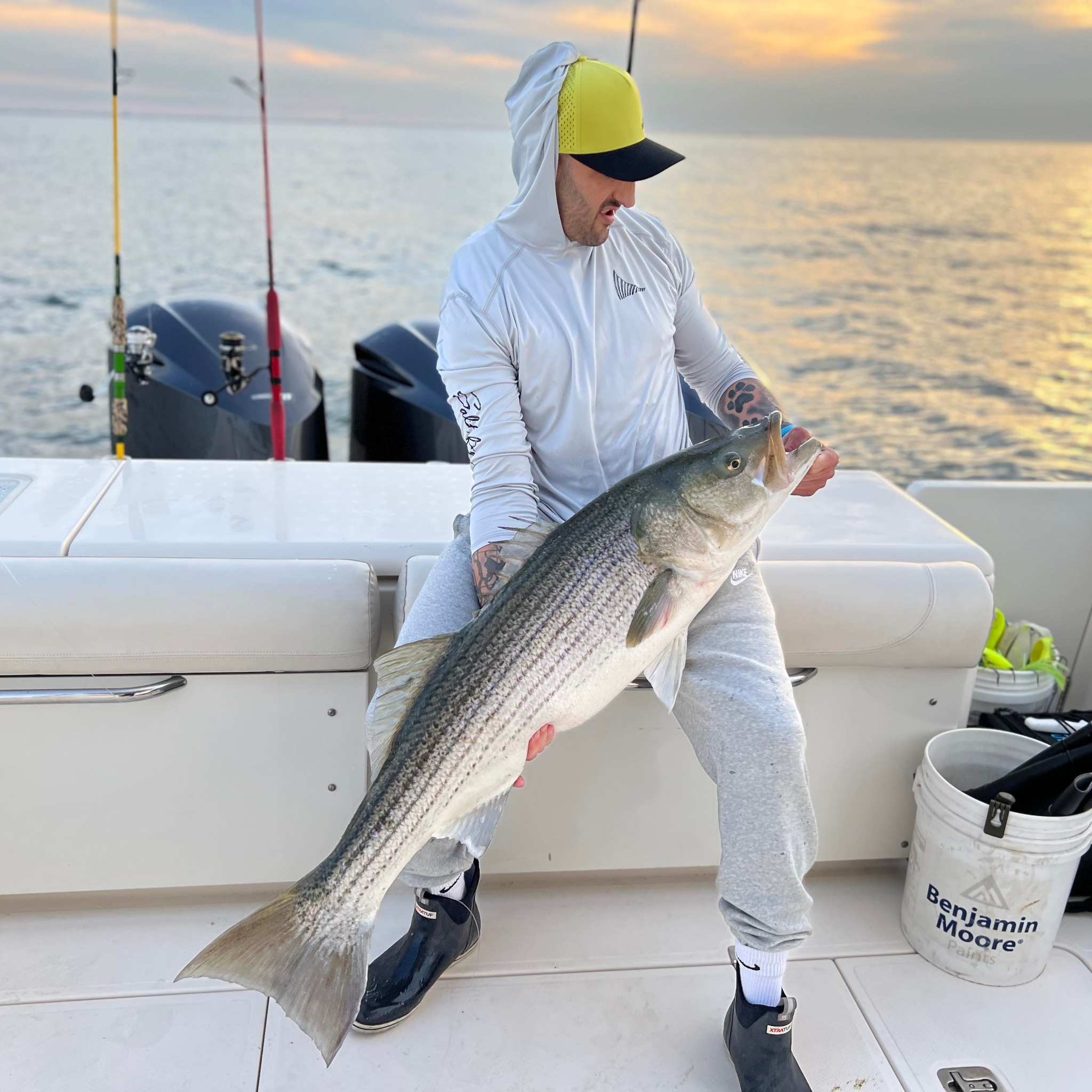 While the Pursuit OS 385 can offer its owners a great variety of experiences on the water, Brandon's favorite outdoor pursuit is fishing. "The boat is highly fishable. I became interested in fishing quite late in life in comparison to many other people - a couple of my friends got me into it and I've been completely sold on it ever since. Our OS 385 is the perfect platform to go out fishing."
"We go fishing all over the coast, from April through to December," he continued. "From the beach up to 100 miles out to the canyons. We catch Striped Bass, Bluefin Tuna, Yellowfin Tuna, and Bassfin, I do it all. I don't charter the boat out because I just want to actually fish myself, so I like to take friends out who want to fish and learn the sport."
Brandon has combined his love of fishing with his love of social media, into a formidable social media presence with thousands of followers. "I'm big into Instagram, Facebook and TikTok," he said. "I love showing people what I do and how I do it. I plan to increase the number of videos I make, as well as start a YouTube channel where we'll do 'How-tos' and similar videos."
His social media presence has turned him into a bit of a celebrity within the local fishing community. "People were coming up to me at a recent show where they recognized me. People also see me on the water and call me on the radio even though I often don't know who they are, but they know who I am."
He was philosophical about his social media efforts: "I try to use the bit of influence I have to push youngers in the right direction in the sport, to teach them and encourage them."
Brandon's job at the local bait and tackle shop has further helped him to build strong relationships in the local fishing community. "We have a good group of connections who share information about our fishing. We share numbers and locations where we catch, including temperatures, days of the week and sea conditions."
Owning the dream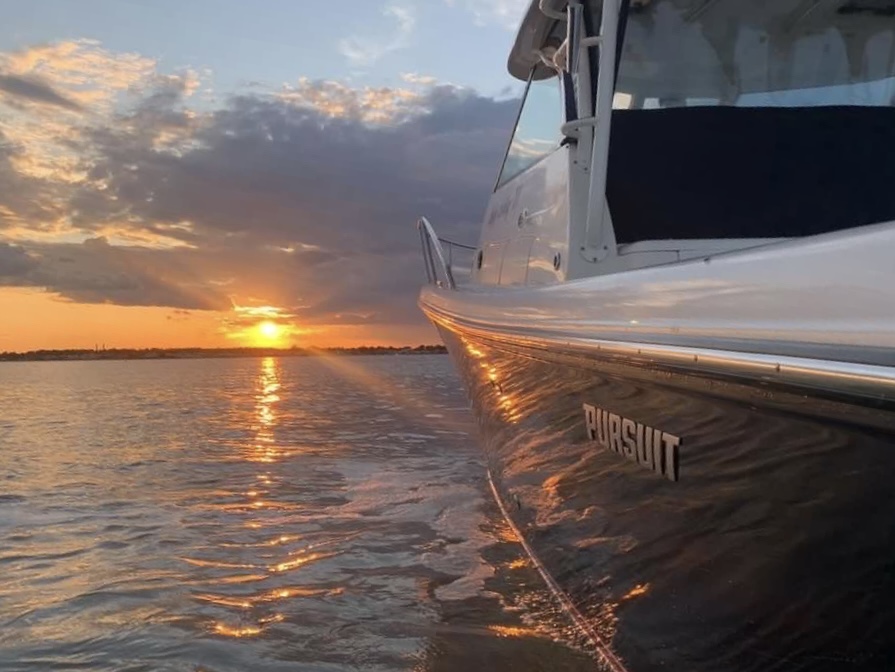 Despite the OS 385's impressive size, Brandon has been impressed by its agility. "Its handling is amazing. We have to navigate a lot of crazy turns on our way to the inlet and the boat turns on a dime; it performs really well. You wouldn't expect a boat that size to have such amazing handling. Also - who knew a 40 ft boat could go 50 miles an hour?" he remarked, laughing. "I seldom push it to that top speed though!"
Lady Ashley II was delivered in early 2012 by Strong's Marine in Mattituck. Given that a few years have passed since then, in 2022 the Weitz family decided to upgrade the boat's electronics package. "We did a big $60,000 upgrade with all new Garmin electronics. We went top of the line with everything, including a 16-inch screen, a new open array radar, a new FLIR and two new transducers. We also updated all of the EPIRBS and I added a second VHF radio as well as a handheld VHF for emergencies."
"Having all of the top-of-the-line Garmin electronics helps us to get out of the bay safely, especially when heading through the inlet," he continued. "I particularly recommend a thermal camera now because navigating at night can be dangerous; you really have to know what you're doing. Having the right electronics is therefore so important and the upgrade has definitely been worth the cost."
In the meantime, Brandon's mechanic at Strong's Marine is preparing Lady Ashley II for another long season of boating, and Brandon can't wait. "We have a great relationship with Strong's Marine in Southampton. Their mechanic - also named Brandon - is certified in Yamaha and very knowledgeable. He knows everything about Pursuit boats."
And when Lady Ashley II comes out of storage again, he once again expects that it'll draw attention. "It's not every day that you see a 40 ft Pursuit at the gas stop there! People love the boat and always want to see it, we get a lot of compliments about her. It's fun! I'll often invite people on board to look around; I honestly feel like a celebrity sometimes when I'm on board!"
The Pursuit OS 385 is the perfect family boat, offering a variety of amenities including an enclosed wheelhouse, an impressive beam and comfortable accommodations. To book a test drive, contact your nearest authorized Pursuit Boats dealer, or send us an inquiry and we'll put you in touch!