The Pursuit Offshore Series: Built to go out and stay out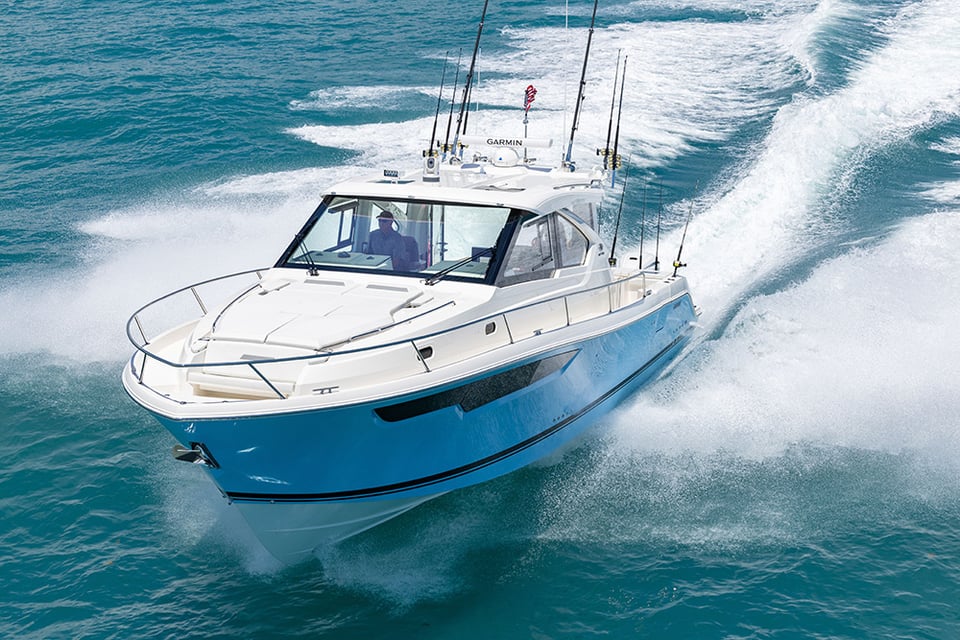 The Pursuit Offshore Series boats are built to go anywhere comfortably and stay there, providing all of the amenities you need to have fun and make memories on the water.
Our Offshore boats are available in four models, ranging from 32' to our brand new flagship offering, the 44' OS 445.
These boats combine the seaworthiness and fishability of the world's best express cruisers and walkaround fishing boats, with the luxury interior amenities that you'd normally only find in much larger, much more expensive cruisers. All while adding the convenience of outboard power and subtracting the hassle of inboard engines.
Read on to find out all of the reasons why the Pursuit Offshore Series is the ideal fishing, cruising and exploration platform for the whole family.
The complete package
The Pursuit Offshore Series is truly the complete package, like a luxury SUV for the sea.
It combines powerful engine packages, large amounts of deck space, spacious helms and comfortable, functional cabins into an irresistible prospect that we think every boater should consider.
Buyers seeking a hardcore fishing platform that is equally at home entertaining, cruising and overnighting would be hard-pressed to find a better solution than this series.
Pursuit Offshore series boats have three main social areas: The aft cockpit, the bridge deck and the cabin.
In every model, each of these areas has been thoughtfully designed to maximize space, comfort, practicality and usability. The cockpit, for example, benefits from our unique fold-away transom and gunwale seating, allowing it to transform in seconds from a social area into a hardcore fishing space or use for other activities requiring open space on deck.
On the bridge deck, passengers are given ample space to join the captain while underway, to enjoy the expansive views across the bow and to either side. Plush seating for both the captain and passengers ensures total comfort, even on long passages.
Staying on the bridge deck, the Offshore Series stands out for its full-height windshields that offer the captain and passengers/crew complete protection from the elements. The windshields are integrated into the standard-fitted fiberglass hard top, and also feature pantograph wipers to keep the path ahead clearly visible while underway. The windshield on many models is optically clear and is composed of chemically hardened panes. The view through this glass is so impressive that one reviewer called it, 'one of the broadest, clearest, unobstructed views… on a boat.'
Below decks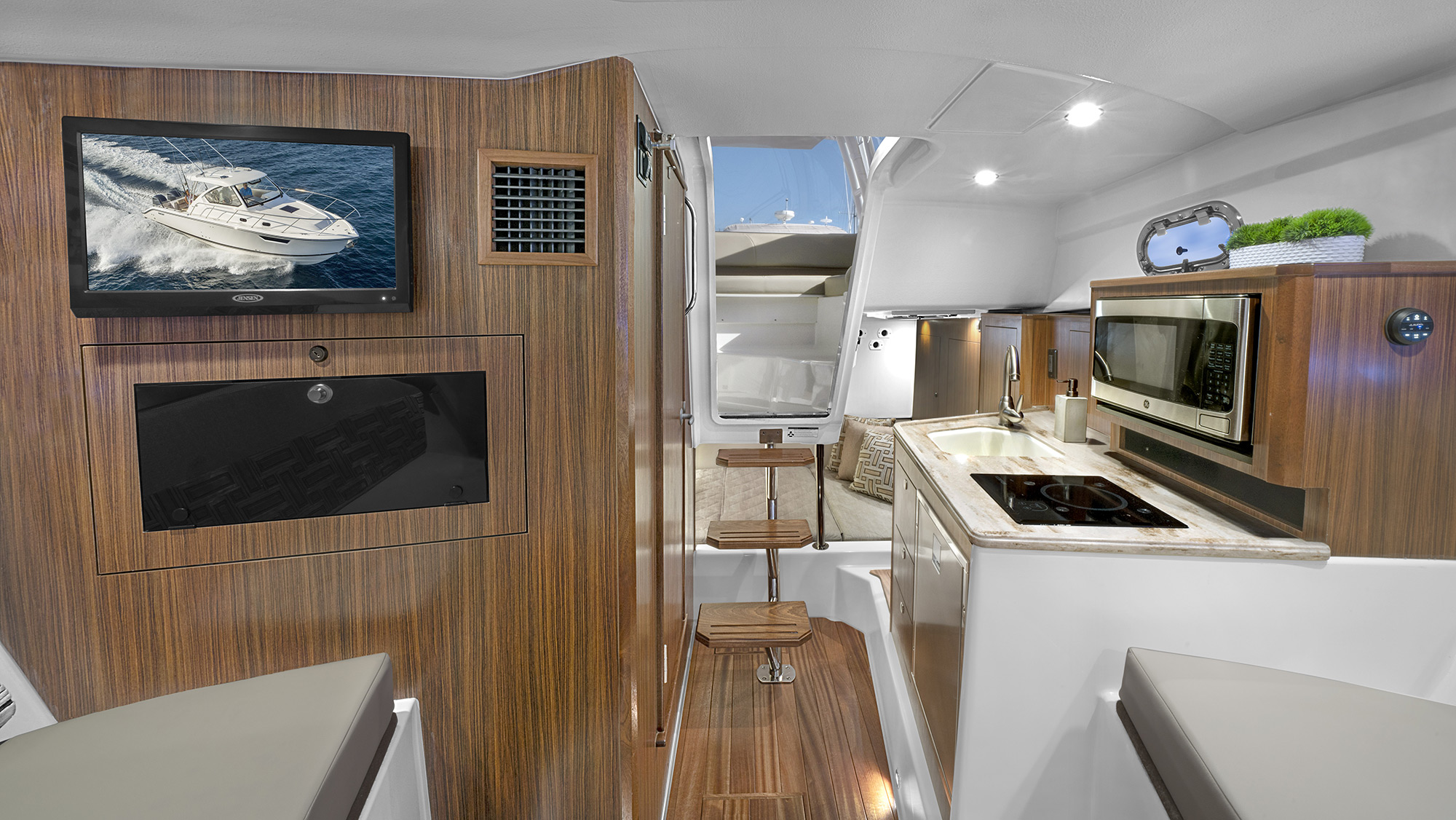 The cabin on the Pursuit Offshore series is a standout feature and a major selling point for buyers in this category.
Whereas our other lines require that certain compromises in the cabin be made in order to maximize foredeck space, the Offshore series is built from the ground up to prioritize the cabins in the bow and below deck.
All four Offshore models include generous, comfortable cabins suitable for a couple or a small family. There's a V-berth in the bow plus a low-level berth aft, a feature that is present even in the smallest boat in the range, the OS 325.
For smaller V-berths in the series, there's a high-low dining table that can be lowered into place and covered with an infill cushion to create a true two-person bed.
Another feature that is standard across the Pursuit Offshore range is a beautifully appointed, standing-height head compartment. The fine finishes in the rest of the boat extend into our head compartments, where you'll find a combination of solid wood and wood-accented finishes, custom timber fixturing and Corian countertops. And of course, all of the luxuries you'd expect in a boat of this caliber, including a shower, a vacuum-flush head with a holding tank, and a vanity with a perfectly-sized basin.
Fish fighting fit
Don't let Pursuit's famous superyacht-quality amenities and finishing distract you from the fact that the Offshore series is equally at home as a hardcore fishing platform.
Every Offshore Series boat features a range of fishing amenities that will be at the top of any fishing enthusiast's wish list.
Stainless steel rod holders are strategically fitted all around each Offshore series boat, and tackle storage abounds to keep your rods and fishing equipment safely stowed, and ready for action. There's even gunwale storage for rods as well as rod storage in the cabin, for additional peace of mind.
Just as you'd expect, every boat in the Offshore Series also features a recirculating live well to ensure that your bait is fresh when you arrive at the fishing grounds.
When the big catch arrives on deck, large insulated fish boxes are fitted on every Offshore series boat to ensure that there's ample space for your fish, and that it's kept cold and fresh.
And if you need to clean the deck or some equipment, our cockpits include both fresh and raw water wash down systems.
Reliable power and control
As per the rest of the Pursuit Boats models, the Offshore Series is powered by outboard engines supplied by Yamaha.
Buyers may have a choice between double or triple outboard packages, but in all cases, you'll enjoy the legendary reliability offered by Yamaha's outboard motor engineering. The larger boats in the series are powered by Yamaha's range-topping 425 XTO offshore outboards.
It also means that up in the helm, you'll have the benefit of systems like Yamaha's Helm Master EX Digital Electronic Control and Yamaha Joystick Control with Full Maneuverability Package.
Garmin Marine electronics can be installed on every Pursuit boat - with certain packages and features available as options - to help you direct all of that power and take your Pursuit wherever your heart desires, safely and easily.
Take your crew Offshore
The Pursuit Offshore Series is loaded with standard features that will make everyone in your family or crew happy. Whether you're interested in fishing far offshore, taking long cruises, or just socializing at the sandbar, the Offshore Series is equipped to ensure that you can make memories and have fun doing it.
If you're ready to go Offshore, contact your nearest authorized Pursuit Boats dealer to arrange a viewing.