The Pursuit Dual Console Series: The perfect all-rounder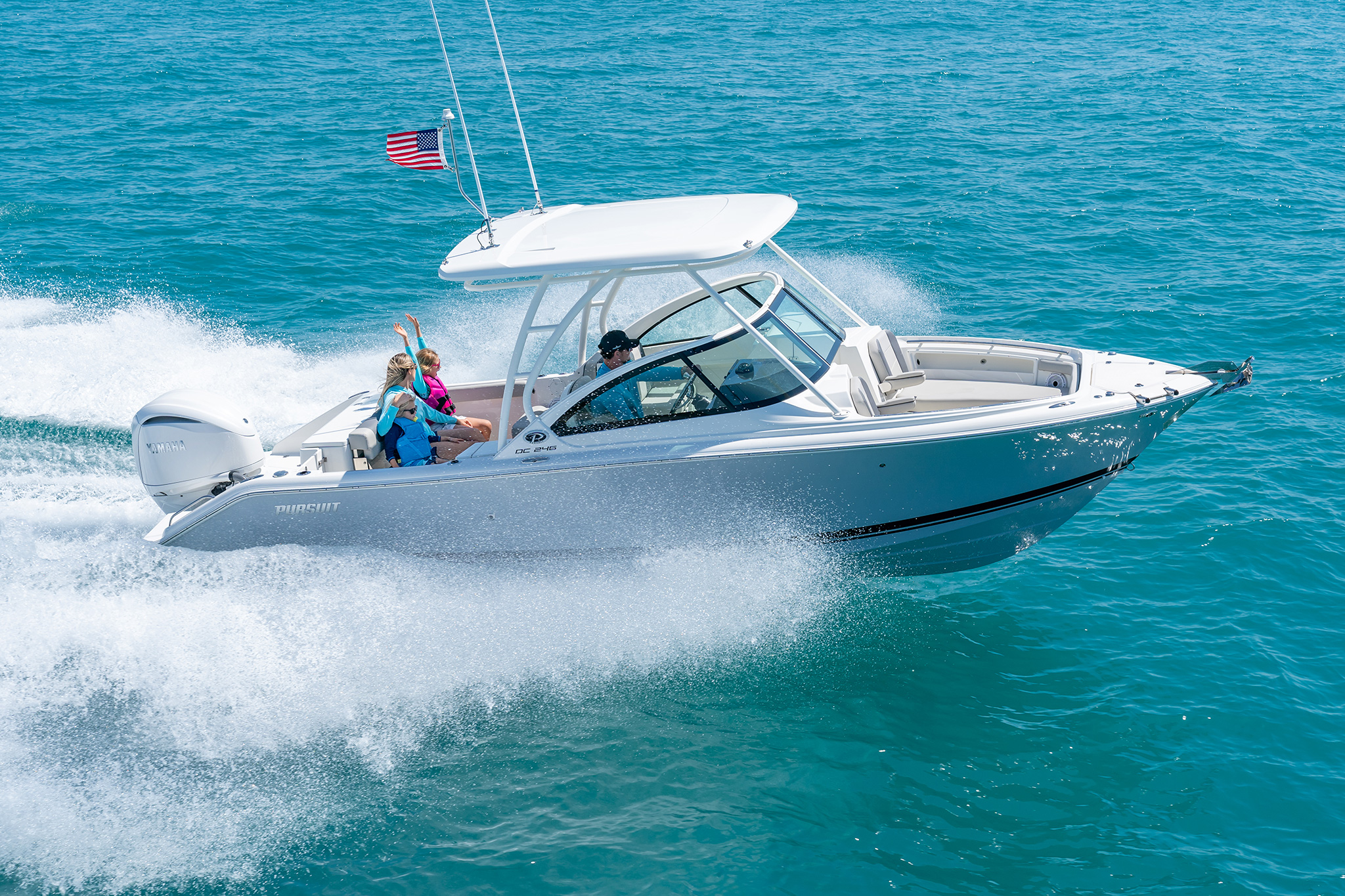 The stylish, flexible Pursuit Boats Dual Console Series is the perfect all-rounder that every serious boater should consider. In this blog, we take a look at the engineering of this popular class and highlight the reasons why it needs to be on the shortlist for your next upgrade.
Unmatched Versatility & Comfort
Pursuit's Dual Console Series is perhaps the most flexible boat available on the market today.
Sometimes called bow riders, this series effortlessly combines the best features of ever-popular center consoles, including their fishability, but adding a raft of practical features that give Dual Consoles an elevated element of comfort and versatility.
The DC Series is available in five different size options ranging from the 24' DC 246, up to the range-topping 36' DC 365. All feature three main social zones: The bow, the middle cockpit (sometimes referred to as the bridge deck) and the aft cockpit, which all boast comfortable seating, perfect for every occasion. Whether you're socializing or underway, there's enough space for the whole family or crew to relax and enjoy their time aboard.
Bow seating
All five of the boats in the Pursuit Dual Console series feature a luxurious, well-appointed, precisely engineered bow seating area.
With our famously plush upholstery, this space is designed to be an extremely comfortable area that is equally capable whether you're socializing at the sandbar, or grabbing a front-row seat while out cruising.
The bow seating across the series features flip-down armrests, as well as insulated storage below, to keep your drinks or other refreshments cool during those long hot days on the water, or can simply be used as additional storage.
On all models, the bow is easily accessed through a wide walkway path through the center of the boat. Simply open the center glass door and the bow block-off door, both of which can be left open during favorable weather.
Total protection from the weather
The highlight of the Pursuit Dual Console Series is surely their wraparound windscreen and full beam hardtop. Larger models include a highly desirable full-height windshield for complete protection and minimal canvas sections, for maximum convenience and comfort.
This distinctive feature is a favorite of owners and a real selling point for many buyers.
The two elements combined mean that, particularly on full-height windscreen models, you and your crew are fully protected from bad weather, cold wind or any other unfavorable conditions you might find yourself cruising through.
But you also don't have to sacrifice that feeling of the fresh air on your face. Simply swing open and latch the large windscreen panel door that leads to the bow seating, and enjoy the stream of air rushing through the cockpit while you're underway.
Uncompromised fishability
The DC Series does many things very well, and just like all other Pursuit Boats, they are designed to make hardcore fishermen very satisfied.
The standard equipment onboard the DC Series includes features like a recirculating livewell, generous fish boxes, tackle storage, optional outriggers, and plenty of rod holders.
On the way to your favorite spot, your crew will ride in complete comfort thanks to comfortable seating all around. But when it's time to fish, the transom and gunwale seating simply folds away, freeing up the large cockpit space for plenty of fishing action.
Comfortable cabins
Below deck, some of the DC Series boats offer a spacious portside berth with enough space for a couple to overnight.
The cabin is accessed via a unique fiberglass door and inside, you're treated to the superyacht-level finishes that make Pursuit Boats some of the best in the world. We've incorporated stylish wood accent details, Corian tops and plenty of really practical, useful features all around.
One example is hull side windows that allow beautiful natural light into the cabin.
With the accommodation available on the DC Series, a couple or a small family can comfortably overnight for the weekend, enjoying longer cruises and more time spent making memories together on the water.
Ergonomic helm
The DC Series benefits from Pursuit's unmatched helm design and engineering. Sit in the plush captain's chair and you'll find that all of the controls and instruments fall easily to hand and comfortably to the eye. These thoughtful ergonomics ensure that long passages are comfortable, stress-free and safe.
On most models, the captain's seat is able to swivel 90 degrees (or more) to face the port-side seating, creating a cozy, comfy social area.
Additionally, our boats come fitted with an optional suite of Garmin marine electronics, for total control over your boat and ensuring that you have all of the information that you need, on hand, at all times.
Flexibility for the whole family
Pursuit Boats are specifically designed to allow the whole family to enjoy their time on the water. Whether you're going fishing, hanging out at the sandbar, cruising to your favorite restaurant or doing watersports, the Pursuit DC Series can accommodate all of those activities comfortably.
Some models feature a hull-side access door, allowing for easy access to the water and the dock, while all feature transom extensions for additional water and dock access room.
Conclusion
The Pursuit Dual Console Series is loaded with features, amenities and a thoughtful design that delivers a truly versatile platform.
With comfortable bow seating, large windscreens mated to hardtops and generous cockpits, the DC boats make you and your family or crew's comfort a top priority.
But overnighting hasn't been neglected either, and larger models include overnight features perfect for a couple or small families looking to spend the weekend on the water, making memories and having fun together.
Find out why the Pursuit DC series is an award-winning range and why our customers love them, by visiting our Dual Console series page, or by visiting your nearest authorized Pursuit Boats dealer.
See you on the water!