Live Your Best Boating Life with a Pursuit Advantage Club Membership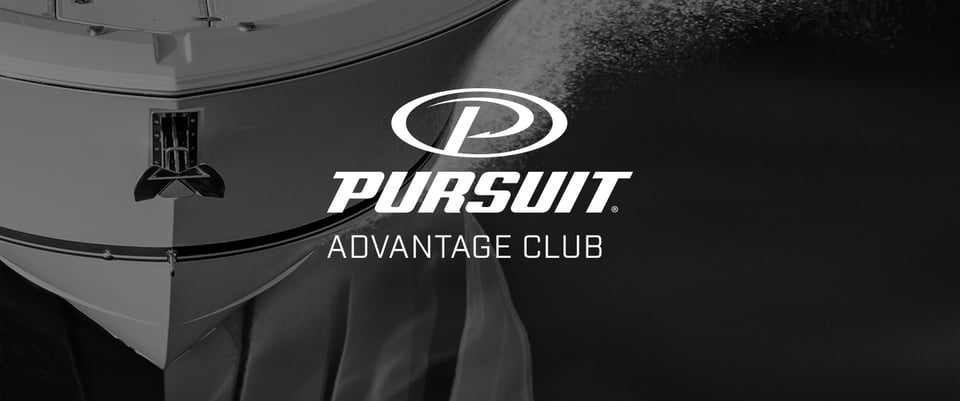 Did you know that we offer owners of new Pursuit Boats, the opportunity to become a member of our exclusive Pursuit Advantage Club?
Read on to find out what the Pursuit Advantage Club is all about and how you can benefit when you buy a new Pursuit Boat.
What is the Pursuit Advantage Club?
Essentially, the Pursuit Advantage Club delivers buyers of new Pursuit Boats, the opportunity to benefit from a number of awesome discounts, services, travel benefits and various conveniences.
This exclusive rewards system is administered by marine tech provider Marinalife, based in Baltimore, Maryland. Marinalife delivers tools and resources to allow the boating community to fully embrace life on the water, which it does through tech-enabled solutions that allow boaters and marinas to easily connect and transact with one another.
Who is eligible for membership of the Pursuit Advantage Club?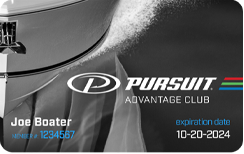 Membership of the Pursuit Advantage Club is an exclusive loyalty program open only to owners of new Pursuit Boats.
It's provided completely free of charge through the Pursuit Boats factory, for one year.
What can I expect from the Club?
This is the fun part.
The Pursuit Advantage Club gives its members access to loads of discounts on fuel, dockage and other marina services through Marinalife, on presentation of your Pursuit Advantage Club Card, as well as access to the security of SeaTow for a year.
Sea Tow
You'll get a one-year Gold Card membership with Sea Tow, for a total value of $199. Sea Tow provides emergency towing services 24 hours a day, seven days a week, 365 days a year on salt and fresh water bodies nationwide. Should your boat require repairs, they'll tow you from its current dock to the nearest dock to the repair facility or to the nearest ramp. There are no out-of-pocket payments applicable and there are also no distance limits offshore. Sea Tow even offers its services from the Bahamas back to the U.S.
Access a Boat Show for free
We give you one free boat show ticket, up to a maximum of $43 in value, to allow you to attend your favorite show and stay up to date with what's happening in the industry.
If you will be attending your first show, or if previous show visits have been so frustrating, disappointing or simply bad, that you vowed never to go back, be sure to read our blog all about how to make the most of your next boat show experience. There are some killer tips there that will definitely help ensure that you actually enjoy this free entrance we're giving you.
Exclusive Discounts via MarinaLife Priceline
Through MarinaLife's partnership with the Priceline Partner Network - one of the most successful online travel programs - you'll get free assistance with hotel, car and flight reservations. The Priceline Partner Network has access to thousands of hotels worldwide in which members get up to 60% off normal pricing charged to the public.
Altogether, with this benefit, you can look forward to cruising assistance, discounts and services on the water when traveling in the United States, Canada, the Bahamas and the Caribbean.
Snag-A-Slip
Create an account with Snag-A-Slip using your Pursuit Advantage Club number on your membership card and you'll be able to book boat slip reservations online at substantial dockage discounts with participating marinas.
For those who haven't used it before, Snag-A-Slip is an online reservations portal that allows users to find and explore marinas from Canada to the Caribbean, and then reserve an available slip using the same system.
Snag-A-Slip aims to help boaters easily find and then compare the facilities and services at different marinas as well as solve the frustration of booking a slip once you find a marina that you like. Users can find marinas via the service's interactive map or you can explore marinas on a per region basis. No more boring Google Maps searches or guessing games!
Once you find an available slip at the marina of your choice, a booking is easily and quickly made on the Snag-A-Slip website and when that's done, you'll receive a confirmation email. Snag-A-Slip handles everything else, allowing you to carry on with the parts of planning your trip that are actually fun.
Bookings made with this service are free, and prices charged on their site are guaranteed. Nice.
Snag-A-Slip has partnered with major marine companies and service providers for your complete peace of mind. Its service is accessible via desktop pc on its website, or via mobile devices on an official app available for download from both major app stores.
How do you qualify for the Pursuit Advantage Club?
It's simple: Place your order for a brand new Pursuit Boat as soon as possible and along with your beautiful new steed, you'll receive your one-year Pursuit Advantage Club membership.
If you haven't joined the Pursuit Family yet, or if you're already in and considering an upgrade, now is the best time to do it. We've just introduced a brand new flagship model, the OS 445, which is the ideal boat for virtually any occasion, with the space, power and amenities to keep everyone in the family happy. Read all about it in this blog.