Pursuit Owner Interview with Mike Kappitt - OS 385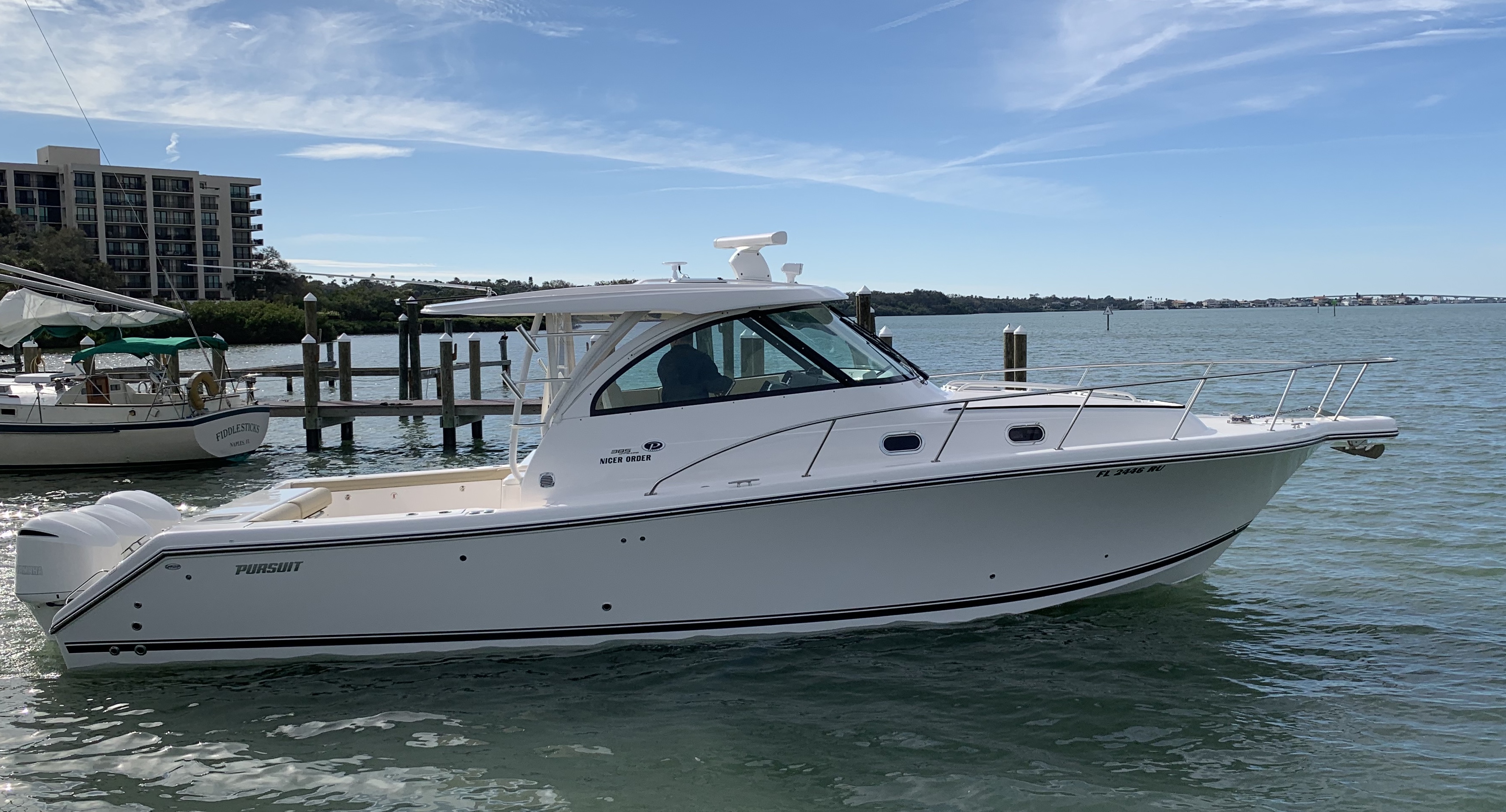 Hailing from Fort Lauderdale in Florida, family man and Pursuit boat owner Mike Kappitt has always had a passion for the water and the outdoor lifestyle that Florida has to offer.
An avid boater at heart, Mike relishes the freedom and adventure that comes with being out on the open water with family and friends. And so, when he's not busy with his fast-paced, executive position in one of the world's largest hospitality companies, you can find Mike on his latest boat - a Pursuit Offshore series OS 385. He sat down with us to talk about his passion for boating, family, and adventure on the sea.
A history of hospitality
Originally from Miami, Mike has called Fort Lauderdale his home for the majority of his life. From his home in The Sunshine State, Mike has enjoyed an incredibly successful career in the hospitality industry. "I've had the privilege of working with some fantastic brands in the restaurant industry, such as Burger King, Outback Steakhouse, Bonefish Grill, Flemings Prime Steakhouse, and Carrabba's Italian Grill where I was the President," he recalled. "Prior to that, I'd spent 13 years working for Alamo and National Rent-A-Car."
Mike's formidable reputation in the restaurant industry led to his current position as Chief Operating Officer at Subway, one of the world's biggest restaurant companies.
While he's enjoyed substantial success in his career, Mike has also found the time to raise a family. With his wife Theresa, they have two sons, Zach and Ben, both currently attending the University of Central Florida (UCF).
Time to go boat shopping
Living in what is arguably the recreational boating capital of the world, Mike developed an interest in boating early on and has owned a number of boats. Just as he has high expectations of his teams at the office, so he has high expectations of his boats.
Consequently, in late 2018, when Mike was in the market for a new boat he had a clear vision of what it had to look like, feel like and what features it had to have. "We were in the market to upgrade the cruiser we had and I wanted something with outboard engines rather than the inboard motors in our previous boat," he said. "We were not actually shopping for an offshore fishing boat - in fact, we've only used it to fish a couple of times since taking delivery of it."
Having already identified another Pursuit model that he was interested in viewing, Mike paid a visit to Pursuit Boats dealer Quality Boats, in St Petersburg, Florida which had one in stock. But he was in for a pleasant surprise: "We'd arrived to view the Pursuit cruiser we were interested in, which had two outboards. But this OS 385 was on the showroom floor next to the cruiser. Out of curiosity, I asked if I could look at the OS 385 because it had triple outboards versus the two on the other cruiser. I took one look at the OS 385 and I was hooked."
In Pursuit of Premium appeal
It's easy to see why Mike was immediately taken by the OS 385. It's one of the most popular models in the Pursuit fleet of premium offshore boats. Measuring just under 40 feet in length, the OS 385 boasts all of the comforts of home with a 360-degree view of the water. It combines high performance, class-leading seaworthiness and fishability with the luxury interior appointments of the industry's most comfortable cruisers.
Thanks to the OS 385's outboard power configuration, valuable cockpit space is opened up to allow for additional storage and accommodations. The accommodation takes full advantage of the boat's expansive 13-foot beam. Below deck, the floor plan features light-colored interior woods, premium fabrics and strategically-located charging ports. All of this combines for an interior that is spacious, stylish and inviting.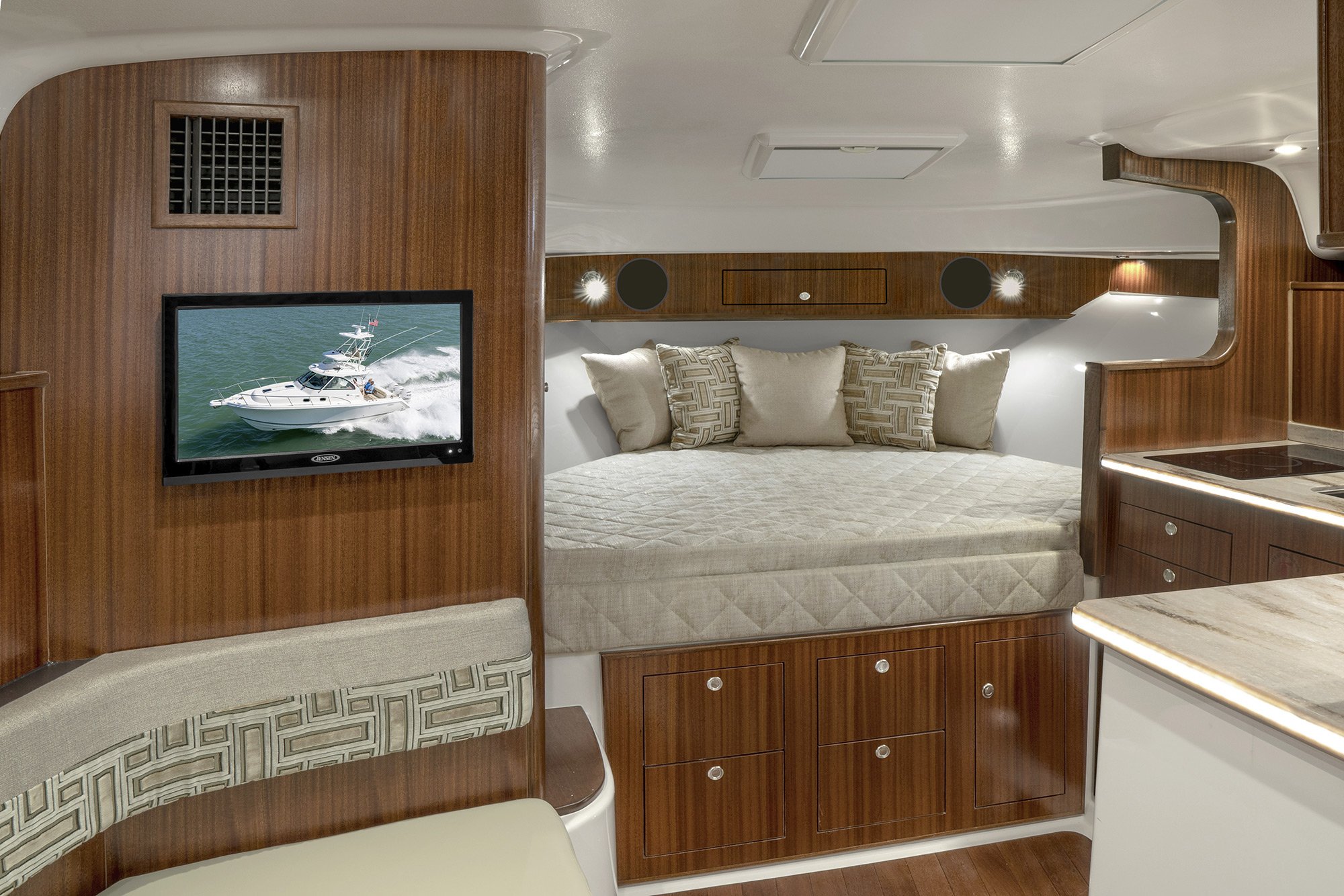 Upon delivery, Mike and family christened their new Pursuit OS 385 with the name, 'Nicer Order'. He was coy about the origins of the name, only revealing that it's an evolution of their previous boat's name, 'Nice Order' which, he said, is a Burger King reference. "It would take much too long to tell that story!" he chuckled.
According to Mike, Nicer Order is a "significant upgrade in every way" over the family's previous boats. And speaking of upgrades, the family has added a couple of their own to their boat. "We added an Optimus 360 drive when we purchased her, and later we added a Sure Shade. Those are the two biggest changes," Mike noted.
All aboard for fun
With Mike's fast-paced and busy career, boating has become an important outlet for him and his family and a great social platform during his rare time off work. He was quick to add, however, that the family has seldom used Nicer Order for fishing. "It's funny," he quipped. "Everyone asks me what type of boat I have and I always answer, "A drinking boat!" Even though it's an incredibly capable offshore fishing platform, we mostly use it for pleasure cruising. We recently took it to Bimini with nine people on board, and it was a fantastic, memorable trip. Nicer Order performed supremely well."
"Our boat has met our expectations in just about every way," he continued. "The craftsmanship and attention to detail are great and in comparison to the competition, Pursuit provides a lot of value."
Mike and his family have been so impressed by their OS 385 that he was certain that their next boat would be from the Pursuit family, too. "It would definitely be the OS 445," he explained. "When we think about our next boat and what we'll be looking for, we hope that we'll have a lot more time and so we'd want to do some significant traveling on it through the Caribbean."
The Pursuit Offshore series of boats remains one of our most popular series. Our new flagship, the OS 445, is now ready for order. Contact your nearest authorized Pursuit Boats dealer for more information.