Summertime Maintenance Tips from Pursuit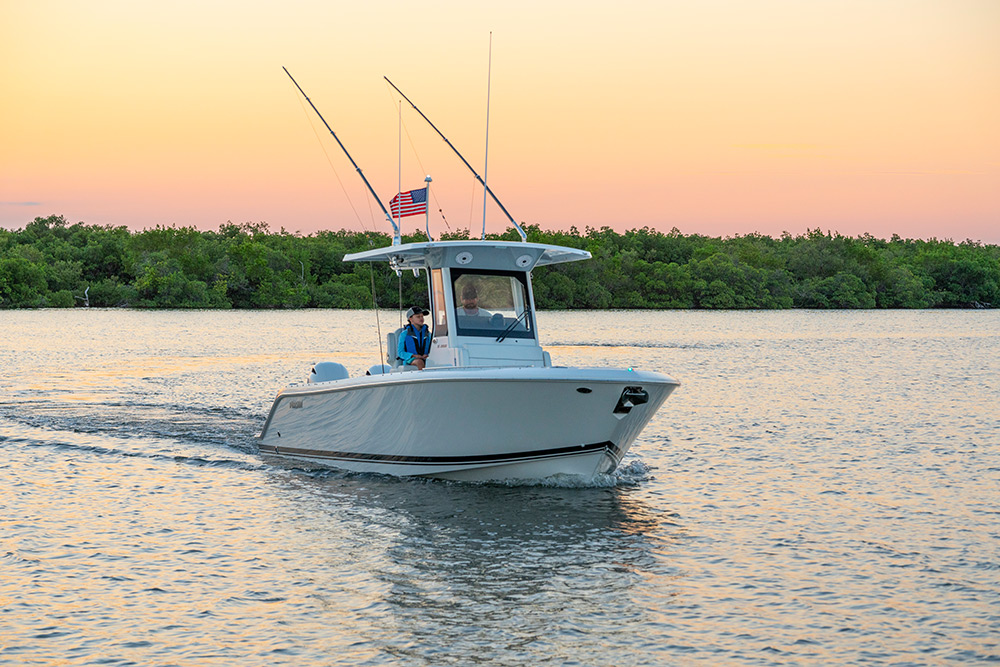 Looking for maintenance tips for your boats during the hot summer months? Look no further. See our tips to keep your Pursuit Boat in ship shape!
Summer Boat Maintenance Advice
It's Summer and it's the middle of the busiest boating season of the year. The last thing any of us needs is a boat that isn't working as expected or even one that isn't looking as good as you prefer.
Just like any other machine, a boat requires constant maintenance to ensure that it is always in tip-top condition, purring like a cat and ready for action. Our Pursuit Boats tips for summer boat maintenance will ensure that your boat not only looks the part but also sounds and works flawlessly.
Gelcoat Care on your Dual Console, Center Console or Offshore Boat

The exterior finish on boats is often taken for granted. But if gelcoat care is neglected, it'll quickly show and the result will ultimately diminish not only the aesthetic quality but also the monetary value of the boat.

Routine cleaning using a mild boat wash will help preserve that beautiful factory finish and luster. After washing and rinsing, use a chamois or microfiber cloth to dry the boat. This will remove any mineral deposits which may be in the wash water.

Some owners even invest in a spot-free water filter which greatly improves the outcome of any wash.

Lastly, don't forget to wax your boat on a routine basis using the best quality products. Think of wax as being the sunscreen for your boat: We wouldn't recommend a day in the sun without sunscreen for ourselves so why would we expose our boat to the elements without some form of protection? Keep her shining and keep her beautiful by regularly applying high-quality wax.

Humidity Control to Prevent Mold

Whether you keep your boat in a slip with shore power, or on a lift, on a mooring, on a trailer or in a dry stack, preventing moisture build-up is critical to preventing odors or mold. Here are some tips for preventing mold on the most popular boat storage methods:

Slip with shore power – The best mold prevention method in a boat in this scenario is to use the dehumidify mode on the vessel's air conditioning, assuming you're not already running the air conditioner in its cool or heat mode. The other option here is to use a dehumidifier but this may require constant attention to empty the recovery tank. Unless you purchase a model with a hose outlet that can be directed overboard.
Boatlift storage – If shore power is available on your lift, you can use a dehumidifier as well, as long as you're mindful of monitoring the recovery tank level. Also, remember that boat's stored on a lift should have their seacocks closed prior to lifting as it will prevent nuisance airlocks in raw water cooling inlets for both air conditioners and generators.
Mooring/trailer or dry stack – These situations typically do not have power available, however, the moisture issue can be addressed using commercially available desiccants/moisture removal products such as DampRid. Follow the manufacturers' recommendations for the required size/quantity.

Sea Strainer Maintenance

Failure to carry out routine cleaning of sea strainers can lead to system shutdowns or even worse, total failure of a component or system.

The frequency with which sea strainers should be cleaned differs depending on your particular region, but a weekly check and clean should be the minimum when systems are in constant use. Blocked sea strainers lead to reduced water flow and the potential failure of pumps which is not considered to be a warrantable condition. Pay attention to these and you'll have those creature comforts like air conditioning working when you need them most.

Stainless Steel Fittings/Rails

Stainless steel and similar fittings are a maintenance item that is often neglected. But this is a mistake.

Ignoring their maintenance needs allows for the buildup of mineral deposits on these fittings as well as to other exposure-related issues that diminish their beauty.

Clean these fittings with the same frequency and process as your gelcoat. Once cleaned and dry, applying a light coat of wax or metal polish will help prevent future tarnishing. If you have heavier deposits they can typically be removed with a cleaner such as Never Dull followed by a good wax/polish.

Storage Compartments

These need to be cleaned and dried on a routine basis. Failure to do so could lead to the degradation of the precious items which we put there for our enjoyment.
Conclusion
Carrying out regular maintenance on your boat is the best way to ensure that it is always able to perform at its best while looking and sounding its best. It's an expensive machine that requires real time and effort at all times.
By following our summer maintenance tips for your boat, you can be sure that your Pursuit Boat will deliver many years of fantastic fun and excitement on the water.
Thank you for being part of the Pursuit Family of boaters!